Note: EPA no longer updates this information, but it may be useful as a reference or resource.
---
In May 2003, EPA formed a technical partnership with DaimlerChrysler and UPS to conduct a unique fuel cell vehicle testing program. The Fuel Cell Delivery Vehicle Testing Program has operated a zero-emission fuel cell powered package delivery vehicle in daily commercial service, the first such demonstration in the U.S. EPA and its partners have achieved all of the goals of the program and have now brought it to a successful conclusion. A joint paper (PDF) (4pp, 210K, about PDF) documenting the experiences of this Partnership and what has been learned by each partner was published in November 2006 as a part of the proceedings of the 2006 Fuel Cell Seminar. [add link when we have the published paper.]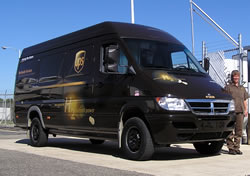 The Fuel Cell Delivery Vehicle Testing Program accumulated over 12,000 miles on the UPS fuel cell "Sprinter" van, developed by DaimlerChrysler. The year-round operation in the Ann Arbor, Michigan area provided a unique opportunity to test the vehicle and its systems in real-world commercial service, including operation during the Michigan winters. The program was also successful in demonstrating how a package delivery company, UPS, can incorporate such an advanced technology vehicle into its normal operations. For more information, go to our page on the Fuel Cell Delivery Vehicle Program.
Key to the development and success of the program was EPA's installation of a hydrogen fueling facility at its National Vehicle and Fuel Emissions Laboratory. EPA's experience installing, operating, and maintaining this station has provided a national example of how the country might best move toward public hydrogen fueling infrastructure. For more information, go to our page on the Hydrogen Fueling Station.
In parallel with our involvement in the Partnership, EPA became a leader in the development of robust laboratory testing procedures for fuel cell and hydrogen vehicles. Testing performed on several prototype vehicles -- in laboratory facilities upgraded to accommodate hydrogen vehicles -- was critical in developing industry-standard test procedures for testing such vehicles. For more information, go to our page on the Hydrogen Vehicle Testing.