Evolution of OPP's Terrestrial Investigation Model
Software and Programming to Meet Technical/Regulatory Challenges
Edward Odenkirchen, Ph.D.
Environmental Fate and Effects Division
Office of Pesticide Programs
USEPA
On this Page
---
Background : Terrestrial Investigation Model (TIM 1.0)
Designed to account for:

single applications of pesticides

dietary and drinking water exposure

Developed using Excel Spreadsheets and Crystal Ball

Presented to Agency's Scientific Advisory Panel (SAP) in 2001
---
TIM 1.0: Why Excel and Crystal Ball?
Model authors experienced with Excel

Relative ease tracking components of model

Trouble shooting math is straightforward

Sub-routines can be developed independently and then easily incorporated into overall model

Easy to develop user interface

Familiarity with Crystal Ball's incorporation of Excel

Reasonable model run time (9-10 min @ 400 mHz)
---
2001 SAP Recommendations
Improve method for estimating surface water concentrations as drinking water source

Address inhalation and dermal exposure

Alterations in daily wildlife activity algorithm

More frequent time steps per modeled day of activity
---
The complex was to get even more complex . . .
---
Changes for New Model
Model Component
TIM 1.0
TIM 2.0
Drinking water
Mean daily value from PRZM and variance from field data on puddles
Model of field puddles
Monte Carlo
Inhalation
None
Vapor and droplet phase;
potency factor
Dermal
None
Direct deposition and incidental contact with foliage; potency factor
Use of treatment area over daily activity
Set once / individual; even distribution of feeding activity
Hourly Time Steps with Monte Carlo sampling; bimodal distribution of activity
Repetition of daily activity pattern
Constant
Markov chain
Tolerance level
Probability of death interpolated for individual modeled dose
Tolerance set for individuals, time to death (if any) tracked
---
Model Changes and Their Effects on TIM 1.0 Environment
Modeling surface water: complex differential equations, numerical solutions

Number of variables doubled from TIM 1.0

New activity patterns: additional Monte Carlo sampling routines

Increase in time steps increased overall calculations required by 12x

New routes of exposure: modeling additional environmental media (air, dislodgeable residues)

BOTTOM LINE: Too many calculations for timely runs in Excel/Crystal Ball environment (run times in HOURS not minutes)
---
Selecting a New Programming Environment: Criteria
Easy assembly of sub-routines

Availability of numerical recipes for solving complex mathematics

Fast run time

Graphical user interface can be easily updated as new model requirements arise

Automated reporting
---
Approach Taken for TIM 2.0
Initial development of new subroutines in either Excel or Mathematica

known to key model developers

quick development time

illustrates sub-routines to assist programming of core program

Core program in C

known to key team members

basics are easy to pick up

numerical recipes available from commercial vendors for complex math and statistics

once compiled, model is standardized

Graphical user interface based on Excel

familiarity to developers and expected users

easy to develop input sheets and automate reporting routines with visual basic

flexibility and ease of updating interface
---
TIM 2.0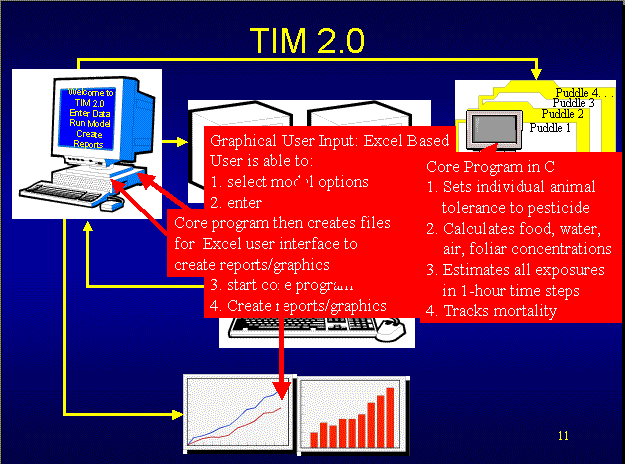 ---
The TIM 2.0 User Interface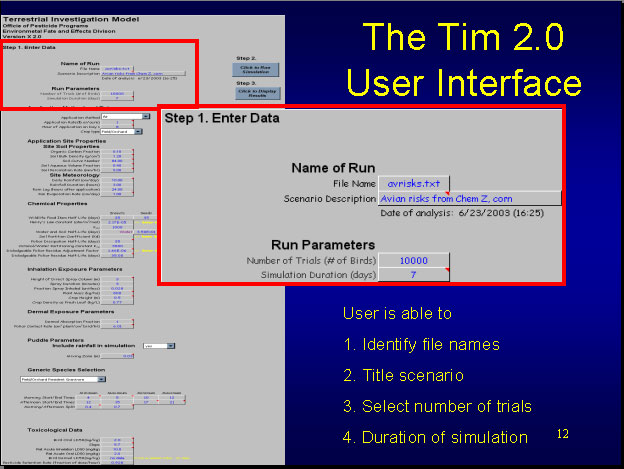 ---
Application Method and Rate and Site Properties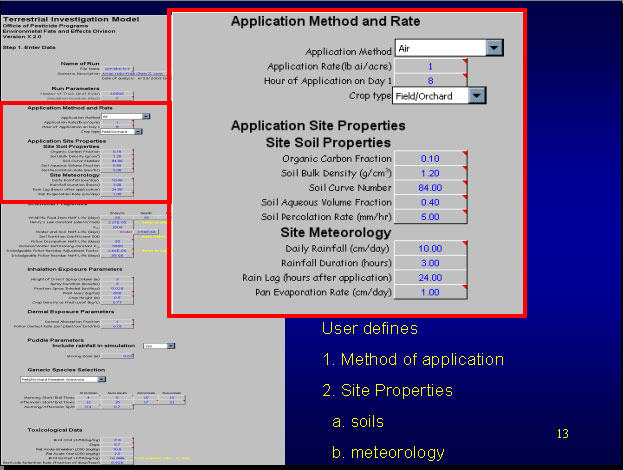 ---
Chemical Properties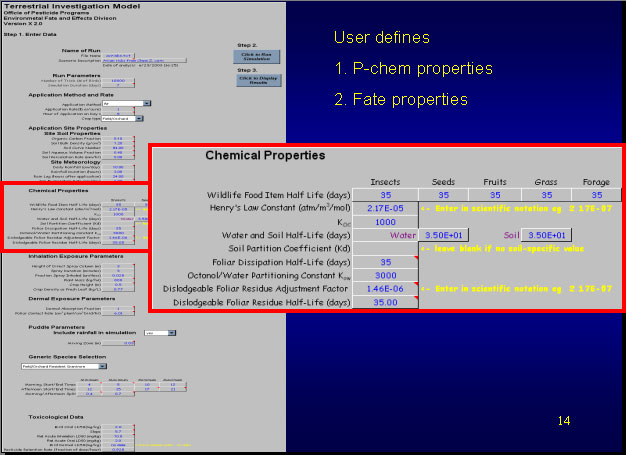 ---
Exposure Parameters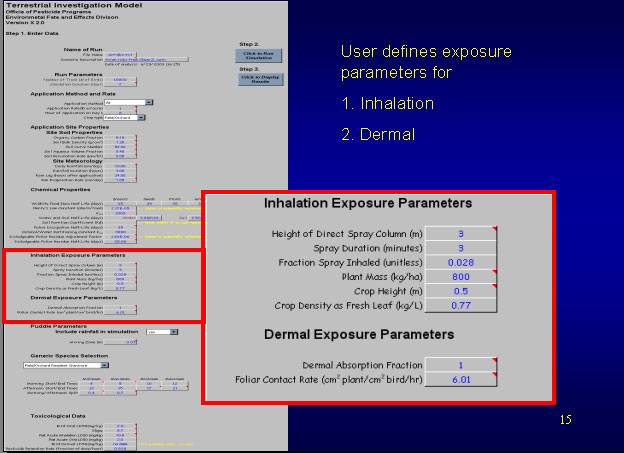 ---
Puddle Parameters and Generic Species Selection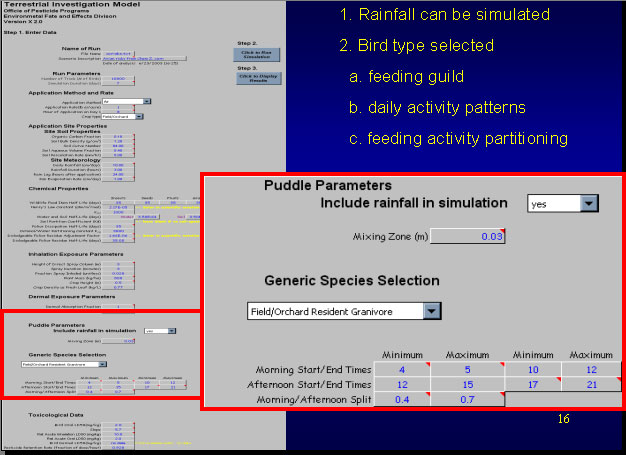 ---
Toxicological Data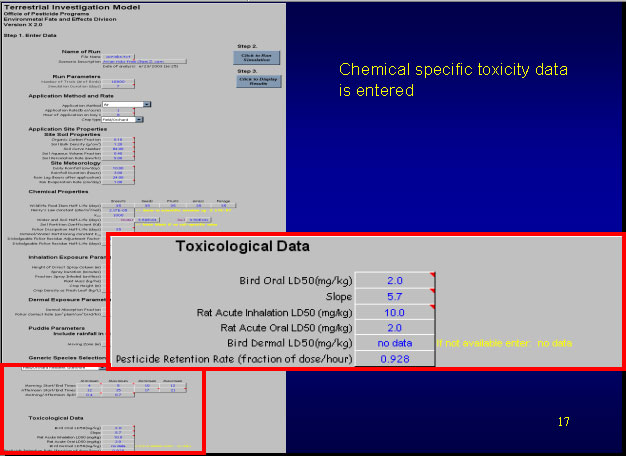 ---
Run Model and Display Results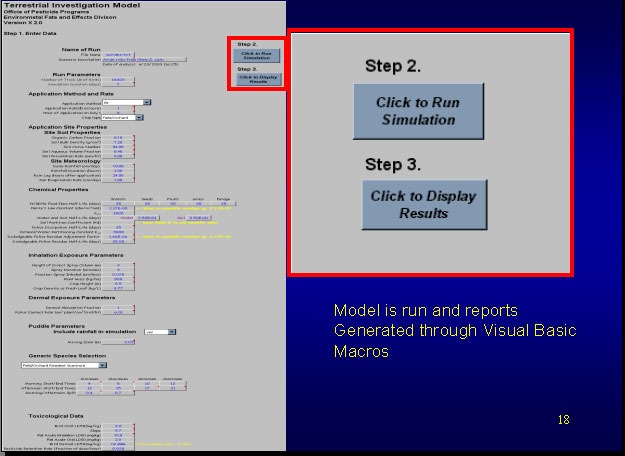 ---
Excel Interface Options
Comments can be attached to data entry boxes to allow for user instructions

Drop-down menus can serve as standardization tools to limit user-defined options (note also a custom input option where user can fully customize model scenario)

Data Entry Quality Control can be achieved with simple logic routines in entry forms
---
Excel Input and C-core Program Flexibility
Speed (run time less than 20 seconds)

User Interface can be updated quickly to allow for more parameters

Inputs can be logically grouped without affecting core program

New computational routines can be appended to core program without affecting user interface.
---
Excel Input and C-core Program Limitations
Program is not a single computer file

Updates to program will require careful documentation and packaging (file structure) to ensure compatible input and core program files are run.
---
Next Steps
Complete Level 2 model development

Develop model documentation and training materials

Obtain peer review comments (SAP)

Beta test

Implement

Modify code to allow multiple application scenarios

Improve vapor phase modeling (kinetics based)
---
Web Site
https://www.epa.gov/pesticides/ecosystem/index.htm
---
EPA Implementation Team
Chair
Ingrid Sunzenauer, M.S.

Aquatic Team
Donna Randall, M.S. (Lead)

Terrestrial Team
Ed Fite, M.S. (Lead)
Ed Odenkirchen, Ph.D.

Additional Supporting Team Members
Tim Barry, Sc.D. (EPA Office of the Administrator)
Dirk Young, Ph.D.
Douglas Urban, M.S.
Stephanie Irene, Ph.D.

Former Team Members
Kathryn Gallagher, Ph.D. (Former Lead, Aquatics)
---