Health and Environmental Effects Research
National Epidemiological and Environmental Assessment of Recreational Water

Project Purpose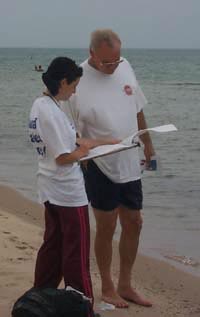 NEEAR Study participant is interviewed by EPA scientist.
The purpose of the NEEAR study is to find out whether people stay healthy after a swim at the beach. This information will be compared with water pollution tests done during the same time and at the same beaches. The U.S. EPA initiated the NEEAR Water Study to test new water quality indicators and methods to see if they more accurately determine illnesses in swimmers. The final goal is to develop new guidelines that will help your state and local government and beach managers protect the health of beachgoers. They will be able to quickly check the water for signs of pollution and, if polluted, alert swimmers.
Study Description
Swimming and health information is collected from beachgoers through the use of interviews. Beachgoers are asked a few questions to see if they are eligible for the study. Eligible beachgoers are then asked to answer some questions about their beach and water activities when they leave the beach for the day.
Households are telephoned 10-12 days later. At this time, they are interviewed to find out whether anyone in the home has started having ear, eye, skin, stomach, or respiratory problems since the beach interview.
Water samples are collected at several locations on the days when beach interviews are conducted. These samples are tested for indicators of water pollution.
For more information, see the Frequent Questions
Expected Outcomes
Scientists will use the information collected to formulate new guidelines for water quality. Because these new tests only take two hours or less, beachgoers can check beach conditions before they arrive at the beach. Results of beach water quality will be available to beach managers and individuals so they can make informed decisions.