You are here: EPA Home
Ethiopian E-Waste Meeting
Preventing Pollution from Electronic Waste in Ethiopia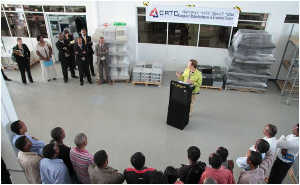 EPA is collaborating with the Solving the E-waste Problem (StEP) Initiative

to host a meeting from October 6-8, 2011 with international experts, Ethiopian federal and municipal officials, NGOs and industry partners.
At the meeting, EPA officials with experience developing the US Strategy for Electronics Stewardship will help the government of Ethiopia as it works to develop elements of a national strategy for improving the management of electronic waste, and further develop its ability to safely manage e-waste.
Over the past several years, as Ethiopia's domestic information technology infrastructure has developed, the Ethiopian EPA

and the Ethiopian Ministry of Communication and Information Technology

also focused on proper disposal of electronic waste, through development of a Computer Refurbishment and Training Center and a Demanufacturing Center designed to manage discarded used electronics in an environmentally sound and healthy way.
EPA Efforts on E-Waste in Africa
EPA's collaboration with Ethiopia was spurred by Administrator Jackson's February 2011 trip to visit the new electronic waste refurbishment and de-manufacturing facility and broadcast US EPA support for Ethiopia's efforts to address a growing e-waste problem.
The meeting is intended be a starting point for the development of a national e-waste strategy, and the further development of their de-manufacturing facility, that will help Ethiopia address challenges and opportunities from electronic waste.
Over the course of two days, participants will discuss:
Elements of a national e-waste strategy,
A work plan for a de-manufacturing and recycling facility in Addis Ababa,
The importance of transparency and public engagement in public policy development,
Opportunities to expand international networks for support, and
Replicability for other nations in Africa and around the world.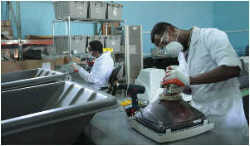 The Ethiopian experience could be a model for the entire African region as the challenges and opportunities associated with electronic waste continue to grow.
Back to: Electronics Waste
---
Contacts
For additional information on EPA's international work on e-waste, contact:
Stephanie Adrian
U.S. Environmental Protection Agency
Office of International and Tribal Affairs (2670R)
1200 Pennsylvania Ave., NW
Washington, DC 20460
E-mail: adrian.stephanie@epa.gov
(202) 564-6444