Gulf Coast Ecosystem Restoration Task Force
You are here: EPA Home
About Monica Medina, Principal Deputy Undersecretary for Oceans and Atmosphere
Monica Medina, Principal Deputy Undersecretary for Oceans and Atmosphere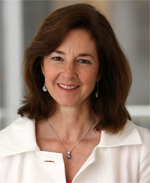 Monica Medina currently is the Principal Deputy Undersecretary for Oceans and Atmosphere of the National Oceanic and Atmospheric Administration.   Ms. Medina also serves as the U.S. Commissioner to the International Whaling Commission.
Prior to joining the Obama Administration, Ms. Medina served as a Senior Officer in the Pew Environment Group, where she provided advice and assistance on issues of marine law and policy.  Ms. Medina has also spent a number of years as a partner at the law firm of Heller Ehrman White & McAuliffe, with a practice focused on environmental law, corporate law, and biotechnology matters.
Ms. Medina has spent much of her career in government.  From 1992 through 1999, Ms. Medina held a number of positions in the Clinton Administration and on Capitol Hill. She was General Counsel of NOAA from 1997-1999. While General Counsel of NOAA, Ms. Medina represented the United States in several international negotiations, and argued and won significant cases before the U.S. Courts of Appeals. Before joining NOAA, Ms. Medina was appointed by Janet Reno to serve as Deputy Associate Attorney General at the U.S. Department of Justice, with oversight of the Environment Division; earlier, she was a Senior Counsel to the U.S. Senate Committee on Environment and Public Works. Ms. Medina began her career in the Army General Counsel's Office, where she served on active duty in the U.S. Army.
She is an honors graduate of the Columbia Law School and Georgetown University. She is married to Ronald A. Klain, and they have three teenage children.