Green Landscaping: Greenacres
Greenacres Links
---
Landscaping Resources
---

About PDF)
Remember, we will not post any information intended to directly benefit for-profit enterprises
2010 Conservation and Native Landscaping Awards
Winning Sites for Outstanding Conservation, Native Landscaping, and Sustainable Design Projects
Certificates of Merit were awarded to the following projects:
---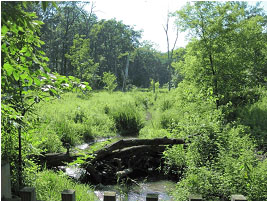 Reed-Turner Woodland Sedge Meadow Restoration
Photo Credit: Reed-Turner Wood Sedge Meadow Restoration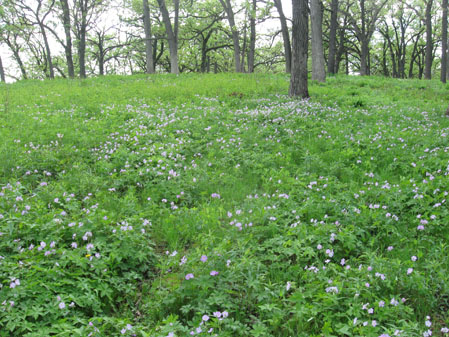 Citizen for Conservation Field of Wild Geranium
Photo Credit: Citizens for Conservation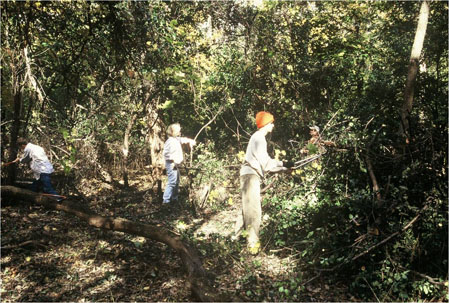 Volunteers cutting invasive brush
Photo Credit: Ken Schaefer
Reed-Turner
Woodland Sedge Meadow Restoration

(Long Grove, Illinois)
This beautiful 16-acre restoration includes a sunny and well-vegetated native sedge meadow, floodplain corridor and ravine tributaries. Project partners include Illinois Nature Preserves Commission, Steward Barbara Reed Turner , the Reed-Turner Woodland Stewards and Indian Creek Watershed Project. The Reed-Turner Woodland Trust Fund and the Long Grove Park District have helped insured the sedge meadow and environs remain high quality.
Contractors: Witness Tree Native Landscapes, Integrated Lakes Management, Applied Ecological Services, and Land and Water Resources.
Baker's
Lake
Savanna

(Barrington, Illinois)
Citizens for Conservation, with a contract from the Village of Barrington, initiated restoration of the 17- acre Baker's Lake Savanna in 1988. Baker's Lake Savanna is now a spectacular showplace of over 125 species of woodland wildflowers, including the rare Hydrastis canadensis, Goldenseal.
Oakton Community College Campus Restoration
(Des Plaines, Illinois)
Oakton Community College campus includes a 50-acre preserve of remnant woodlands and wetlands, and 6-7 acres of reconstructed prairie. There are 301 native plant species in the remnants, and more than 100 additional natives in various plantings around campus. The site creates habitats for smaller creatures, and opens up the woodlands for owls, hawks, and wood ducks. OCC has a butterfly garden, native arboretum, seed gardens, combination native and non-native gardens, and a tree and shrub propagation program.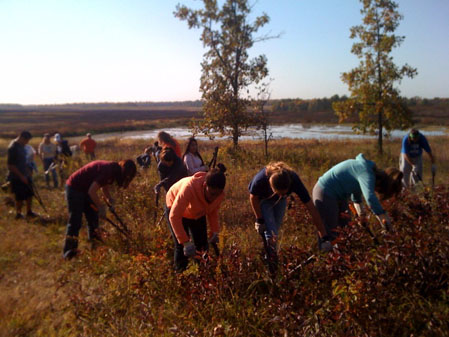 Restoration Workday with High School Students
Photo Credit: Pat Hayes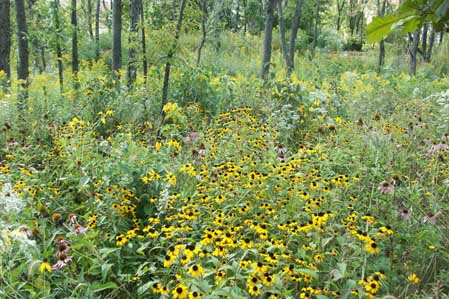 Woodland Flowers at Midwestern University
Photo Credit: Christopher B. Burke Engineering
Orland Grassland
Restoration Project
(Orland Park, Illinois)
This 960-acre ecological restoration strives to establish a pre-settlement prairie with saturated soil zones and scattered wetland habitats, crucial for grassland nesting birds and increasing regional native plant diversity. Management activities include control of invasive plants, drill seeding and prescribed burns.
Partners: Forest Preserve District of Cook County, Army Corps of Engineers, and local volunteers. Contractor: Pizzo and Associates, Ltd.
Midwestern University Woodland and Wetland Restoration Project
(Downers Grove, Illinois)
Midwestern University restored the high quality wetland and oak-hickory woods on its campus, and constructed an educational walking path within the woodland and a boardwalk crossing the 9-acre wetland. Ecological management activities to re-establish native communities included removal of invasive buckthorn trees and honeysuckle, biological control beetles to combat the purple loosestrife in the wetlands, prescribed burning and supplemental seeding of native plants.
Contractors: Christopher B. Burke Engineering, Ltd. in conjunction with Mackie Consultants and Kracower & Associates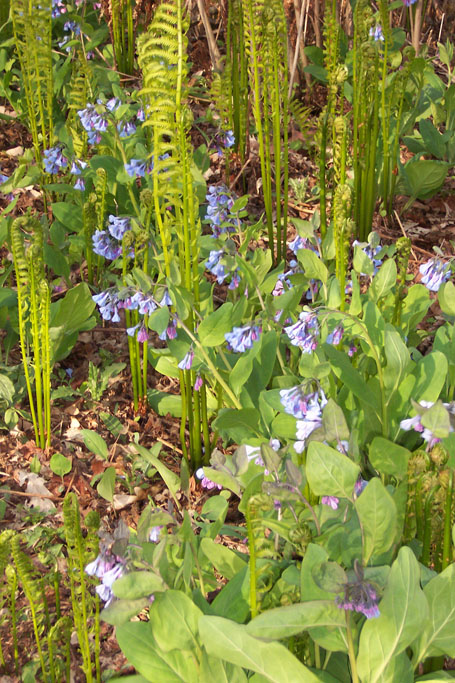 Woodland Flowers in Crow Island Woods
Photo Credit: Pizzo and Associates, Ltd.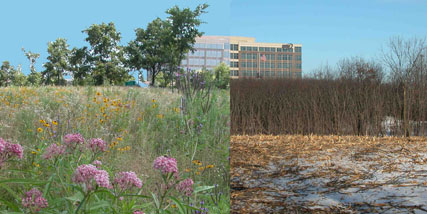 Before and After Restoration of Whippoorwill Farm Preserve
Photo Credit: Mettawa Open Lands Association
Crow Island
Woods Woodland Restoration
(Winnetka, Illinois)
Previously used for the disposal of cinders from the City Electric Plant around the turn of the century, the Winnetka Park District initiated restoration of the woodland in 2006. The site contained a dense layer of buckthorn but large oaks and many native plants were hanging on. Clearing of the invasive plants and planting natives increased the diversity of the site. Continued maintenance includes controlled burns.
Contractor: Pizzo and Associates, Ltd.
Whippoorwill Farm Preserve, A Mettawa Gateway
(Mettawa, Illinois)
The 7-acre Whippoorwill Farm was fallow in the mid 1980s, and an impenetrable thicket of European buckthorn emerged. In addition to shading out all other species, buckthorn trees change the soil making it difficult for native plants to reestablish. A university and two contractors are investigating the most effective practices, including some novel approaches, to reestablish a biologically diverse native ecosystem.
Working Partners: Village of Mettawa, Mettewa Open Lands Association (MOLA), Tallgrass Restoration, Integrated Lakes Management, DePaul University and Stephen Christy.
Financial Partners: Village of Mettawa; HSBC, North America; MOLA members; DePaul University, Gaylord and Dorothy Donnelley Foundation and Hamilton Partners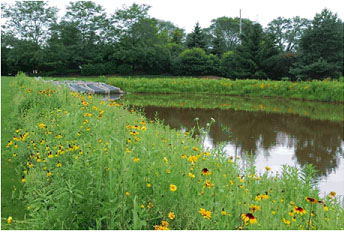 Stream Buffers Planted with Natives
Photo Credit: Bob Newport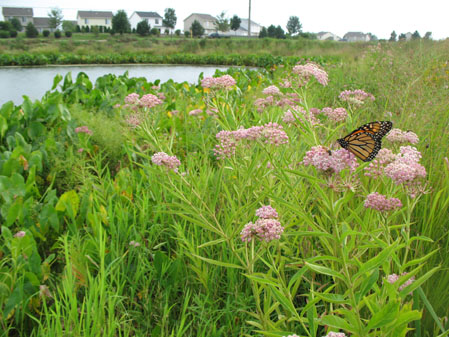 Native Plants Buffer the Stormwater Pond
Photo Credit: Pizzo and Associates, Ltd.
Carillon North
Buffer Enhancement
Grayslake, Illinois)
Carillon North Homeowners Association has approximately 26 acres of natural areas, including a prairie with wetland swale, three retention ponds with naturalized buffers, and over 5,000 linear feet of shoreline. The two northern ponds were developing active toe erosion and sections of bank slumping, due to the combination of steep slopes, soil composition, lack of appropriate vegetation (turf grass to the water's edge), ice shear, wind and wave action. This project compliments the previously established native prairie swale that runs through the middle of this subdivision and the native buffer of the third pond, installed at the time of development in 1999-2000.
Contractor: Integrated Lakes Management
Naturalized Storm Water Management Facilities
(Montgomery, Illinois)>
The Village of Montgomery promotes naturalized detention basins to achieve high water quality. The Village ensured that developers design and install high quality stormwater detention basins landscaped with native plants. The regulations include recommended seed mixes, methods of installation and maintenance. Sites are monitored to ensure the requirements are being met. If the developer or community does not meet the requirements the city will use money levied for this specific reason to improve environmental quality and maintain the basin.
Contractor: Pizzo and Associates, Ltd.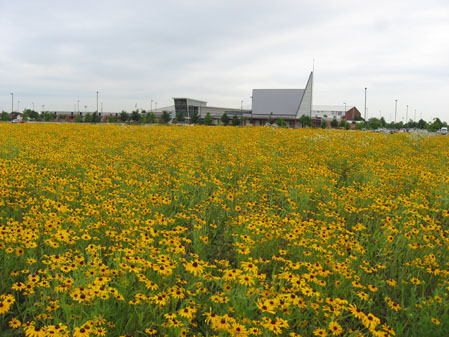 Black-eyed Streams in Full Bloom
Photo Credit: Pat Armstrong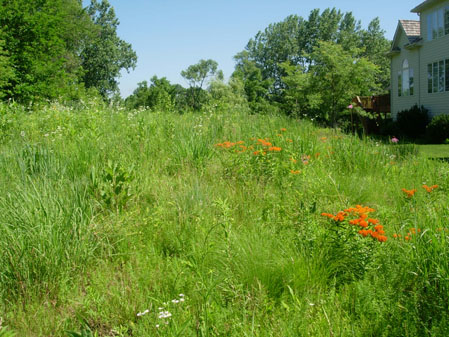 Prairie plants next to yard
Photo Credit: Tallgrass Restoration, LLC
Calvary Church
Restoration Prairies
(Naperville, Illinois)
There are three prairie restorations on this site. The 6 acres provide high biodiversity and a beautiful place for the community to gather.
Contractor: Prairie Sun Consultants and Pizzo and Associates, Ltd.
Conservancy at Estates at Inverness Ridge
(Inverness, Illinois)
Before development, this 150-acre area was a farm with fields, trees, creeks, wetlands and farm buildings. It was seriously degraded, with lots of invasive vegetation and debris in the creeks. This area is close to two ecologically sensitive areas: the origin of Poplar Creek in the Crabtree Nature Preserve immediately to the west and Palatine Road Marsh immediately to the northeast, important sites several of Illinois' endangered birds. The 150-acre development now has wetland, prairie, and woodland areas that make up about half of the total development acreage.
Contractor: Tallgrass Restoration, LLC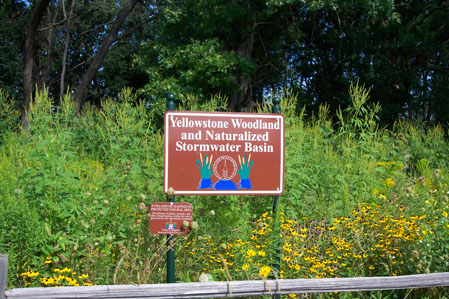 Yellowstone Woodland and Naturalized Stormwater Basin sign
Photo Credit: Bob Newport
View towards the Wetland
Photo Credit: Frankfort Square Park District
Yellowstone Natural
Area
(Algonquin, Illinois)
An existing 4-acre basin was planted with turf grass in Spring 2007. The basin is now a well- established prairie that infiltrates and cleans stormwater from the surrounding residential development. The adjacent 3-acre oak woodland was highly degraded. Intensive brush cutting, controlled burning, and overseeding has greatly enhanced the oak woodland. The entire project site is now a low maintenance native landscape that provides beautiful asthetics, wildlife habitat, and overall water quality benefits.
Island Prairie Park Nature Center
(Frankfort, Illinois)
The Island Prairie Nature Center is adjacent to a 40-acre native Illinois prairie. The Nature Center has a greenhouse to propagate native plants for restoration efforts. Seed harvested from park district native plants and cultivated in the greenhouse produced over 18,000 plugs in 2010 alone, for use in the district's extensive 250+ acres of natural areas.
The Island Prairie Interpretive Gardens showcase various habitats of the region, including Lowland Forest, Wet Mesic Prairie, Upland Forest, and Upland Prairie. In creating these habitats, 72 mature native trees, 179 shrubs, 16,830 plugs, and 1.5 acres of native seed mix were planted. Interpretive signage describes the flora, the wildlife it supports, and the environmental benefits it provides. An ADA accessible nature trail meanders throughout the garden area.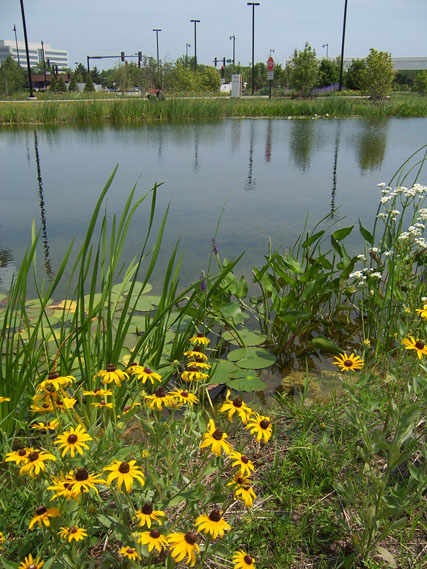 Native Plants on the Ponds Edge
Photo Credit: Bob Newport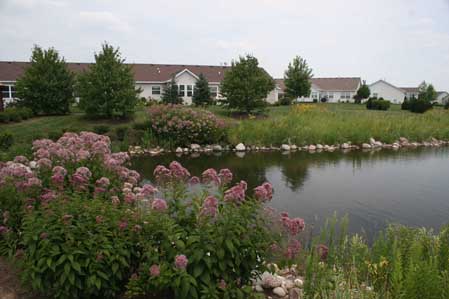 Native Plants along the Pond
Photo Credit: Pizzo and Associates, Ltd.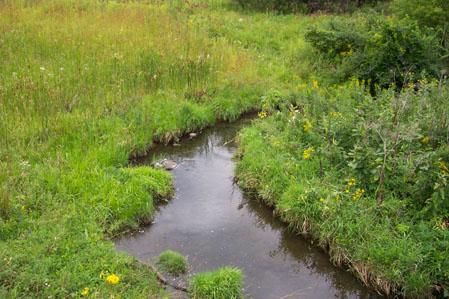 Stream with Native Plants
Photo Credit: Applied Ecological Services, Inc.
Renaissance
Schaumburg Hotel & Convention Center
Schaumburg, Illinois)
Seven and one half acres of ponds, wetlands and prairie areas surround the village's hotel and convention center. The village insisted that increasing the site's biodiversity by using native plants become the driving force in designing the site's open spaces. Bridges and overlooks encircle the site's natural areas to allow visitors the ability to experience nature up-close.
Grand Haven Prairie
(Romeoville, Illinois)
Grand Haven has 20 acres of natural areas including a beautiful diverse prairie and native plants buffering the pond shoreline. Mowed paths allow residents to enjoy the natural areas.
Contractor:
Pizzo and Associates, Ltd.
Carrington Reserve Natural Area
(West Dundee, Illinois)
Carrington Reserve Residential Development is in an ecologically sensitive area with a high-quality stream system and adjacent wet prairie and fen wetlands. Developers faced strict requirements in order to develop the site.The development includes Best Management Practices within residential areas that promote stormwater cleansing and infiltration prior to being released to the high-quality stream and adjacent wetlands.
Contractor: Applied Ecological Services, Inc.
Certificate of Merit Winners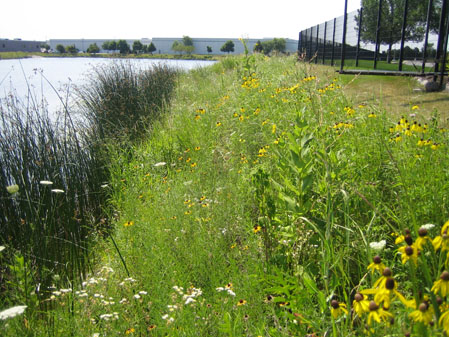 Native Plants to the Ponds Edge
Photo Credit: V3 Companies, Ltd.
Amhurst Lake Business Park Ponds
(Waukegan, Illinois)
In 2004, the Amhurst Lake Business Park Owners Association chose to naturalize approximately 5,000 of linear feet of stormwater basins shoreline in three conventional/traditional riprap and turfgrass basins (Ponds F, G, and L). Fiber roll and native wetland plants were installed at toe of slope to protect the repaired shoreline from wave action. Vegetation on slopes was converted from turf to prairie. Naturalized basins utilize native vegetation instead of riprap and turfgrass, to filter nutrients from surface water runoff, provide slope and soil stabilization, reduce erosion, discourage Canada Geese nesting, and improve site aesthetics.
Contractor: V3 Companies, Ltd.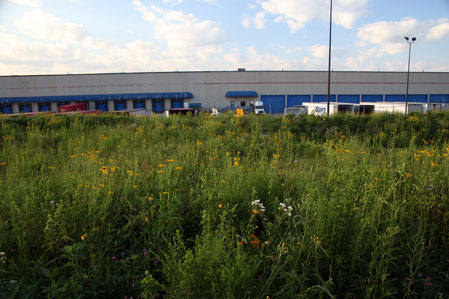 Prairie Plantings in Industrial Park
Photo Credit: Pizzo and Associates, Ltd.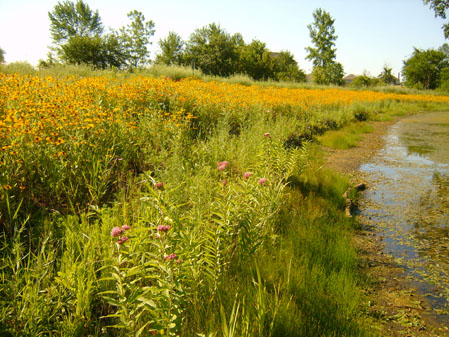 Wildflowers at the Pond Edge
Photo Credit: JFNew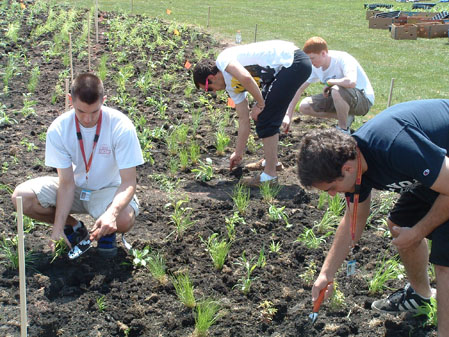 Volunteers Installing Native Plants
Photo Credit: Schaumburg Park District
St. Charles
Commons
(St. Charles Illinois)
The owner transformed a 1.5-acre dry-bottom detention basin from turfgrass, and the required maintenance regime, into a diverse prairie. Butterflies and birds are now common in this small industrial park.
Contractor: Pizzo and Associates, Ltd.
Jackson Creek Native Prairie
(Frankfort, Illinois)
Autumn Fields is a residential subdivision. The Frankfort Park District converted approximately 4 acres surrounding the subdivision's stormwater basin from the turf grass to native plantings, to stabilize the soils and provide wildlife habitat.
Contractor: JFNew
Terada Park Native Landscaping Project
(Schaumburg, Illinois)
Two Hundred Schaumburg High School students installed over 7,000 native plants, consisting of 34 species, on 1/3rd of an acre at Terada Park. The project was a cooperative effort of Schaumburg Park District, Schaumburg High School District 211 and the U.S. Fish & Wildlife Service.