2013 Gulf Guardian Winners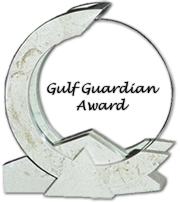 ---
3rd Place Youth Environmental Education

Bradenton, FL
Since 2009, the Island Adventures Project (IAP) has impacted over 4,500 Pinellas and Manatee County fifth grade students in Florida. At no cost to the schools, participants are given the opportunity to investigate the complex ecological connections comprising their local estuaries, watershed and barrier islands. The project reinforces comprehension through inquiry-based field work, including water quality testing, sea grass biodiversity study, and a shark dissection led by biologists. Students also participate in a coastal cleanup which reinforces a sense of stewardship for the Gulf's limited resources, as well as the anthropogenic aspects that impact the area.
The IAP aims to improve local science literacy by delivering an engaging educational experience that further connects coastal communities with their local environment and ultimately the Gulf of Mexico. In a comprehensive analysis by the State Education and Environmental Roundtable (SEER), 92% of students exposed to outdoor environmental programs outperform their peers from traditional classroom based programs in standardized testing and academic performance. By providing this alternative educational approach, the efficacy of the IAP has been demonstrated in the previous four years by an average 85% increase in academic achievement directly correlated with this project.
---
3rd Place Environmental Justice/Cultural Diversity
Youth Environmental Science (YES!)
Mississippi State, MS
Youth Environmental Science! (YES!) is an immersive, in-school, environmental science program that develops knowledge and stewardship while eliminating participation barriers. The goal of YES! is to provide relevant, experiential, science-based environmental knowledge and activities that will promote understanding of environmental issues and career options and encourage positive changes in environmental stewardship in diverse community groups in Mississippi. The objectives are to: (1) increase students' and teachers' knowledge and awareness of environmental science concepts, methods and issues; (2) enhance skills of students and teachers for making informed decisions regarding environmental stewardship; (3) expand audiences participating in environmental education to include representation from traditionally underserved groups.
The program has been implemented for 2 years in a public school district in which 65% of the students are from underserved groups. Fourth and fifth grade classes participate for 5 days of experiments, outdoor lessons, and a nature field trip; third graders attend for 2 days. Since 2011, approximately 1,800 children have participated. A free day camp provided similar opportunities for 24 sixth-eighth graders. Program assessments suggest YES! is effective in building knowledge, ecological awareness and positive environmental attitudes.
---
3rd Place Civic/Non-Profit
Sarasota Bay Watch
Osprey, FL
Sarasota Bay Watch's created a community-based partnership of engaged citizens, organizations and local businesses, along with regional scientific and research groups, to undertake a long-term project to restore scallops to Sarasota Bay. SBW has raised $37,000 to date and, working together with Mote Marine Laboratory, Sarasota Bay Estuary Program and Florida Fish and Wildlife Research Institute, released over 24 million scallop larvae into the bay. The project is community-led, locally providing the majority of the funding and volunteers, while research partners study the science of the restoration process. Community awareness and engagement levels have increased dramatically.
The Gulf of Mexico Program initiated the Gulf Guardian awards in 2000 as a way to recognize and honor the businesses, community groups, individuals, and agencies that are taking positive steps to keep the Gulf healthy, beautiful and productive. First, second and third place awards are given in seven categories: individual, business/industry, youth environmental education, civic/nonprofit organizations, cultural diversity/environmental justice, partnership and bi-national efforts.
---
3rd Place Individual
Karla Klay
Galveston, TX
Karla has dedicated her life to connecting people to places in the Gulf region through meaningful experiences that integrate the arts and sciences to instill a stewardship ethic and ultimately improve environmental outcomes in communities throughout the region. Karla's vision for an interdisciplinary approach to environmental education is realized in programs and projects she designs and implements through Artist Boat, a non-profit organization she founded and leads in Galveston, Texas, which has directly served over ~65,000 program participants and indirectly served many more through public art and habitat stewardship projects since it was established in 2003.
Karla's innovation in the environmental education field is evident in her development of Artist Boat as a vehicle to deliver effective environmental education programming integrating the arts and sciences. After working for nine years in educational programs that applied conventional approaches to delivery of curricula that segregated the disciplines of the arts and sciences, Karla built on the example of 19th-century naturalists who applied interdisciplinary approaches to their study of the natural world, applying a new learning model based in interdisciplinary, experiential approaches to improve environmental literacy and foster a stewardship ethic in participants from communities across the Gulf region.
---
3rd Place Partnerships
Squeaky Sneakers
Fairhope, AL
Squeaky Sneakers, an interdisciplinary program that marries art and informal science education as a teaching tool, was so named because participants' wet shoes "squeak" while exploring Weeks Bay Reserve. Led by veteran art educator Nancy Raia, Community Arts and Outreach Director at the Eastern Shore Art Center and Angela Underwood, experienced Weeks Bay NERR Biologist and Education Specialist, the program promotes conservation of estuaries and other coastal resources through immersion in experiential environmental education and innovative forms of artistic expression.
Since 2008, Squeaky Sneakers has delivered experiential environmental education and art to over 500 participants ranging in age from preschool to senior citizens with a variety of abilities and backgrounds. Squeaky Sneakers strives to enhance ecological awareness and protection among culturally diverse and underserved communities and has worked with groups including Fairhope Rotary Youth Club, Foley Snook Youth Club, The Arc of Baldwin County, Fairhope UMC's Shepherd's Place, Camp Horizon Girls Wilderness Program, Baldwin County Public Schools Summer Programs, and Southwest Alabama Regional School for the Deaf and Blind. Additionally, Squeaky Sneakers trains other educators to extend the program's reach.
---
2nd Place Business/Industry
Martin Ecosystems, LLC
Baton Rouge, LA
The BioHaven• Floating Treatment Wetland (BFTW) project at Elayn Hunt Correctional was done to determine how this new innovative water treatment tool could remove unwanted nutrients from wastewater prior to discharge to the environment. The BFTW accomplished this goal and in addition has helped the wastewater treatment facility achieve and maintain compliance with their permit. In the five years prior to the implementation of this project and launching of the BFTWs into the wastewater system, the facility had an average of 10 noncompliance reports. Following the installation of BFTWs non-compliance events have been reduced to 1 or less per year.
BFTWs also have demonstrated the ability to remove 74% of Chemical Oxygen Demand (COD), 35% of Ammonia, and 29% of Phosphate. Dissolved oxygen has also improved in the pond. Nutrient impact to downstream organisms and the environment has been greatly reduced.
BFTW Technology is designed around the same principles as a naturally occurring wetland. The man-made "floating islands" provide an optimal habitat for microbial and plant species. Similar to a wetland, the plants and microbes improve water quality. Unlike natural wetlands, they offer enhanced microbial growth by expanding available underwater surface area; i.e. microbial habitat. The result is a new and strategic means to achieve a concentrated wetland effect. Along with the nutrient removal processes, BFTWs also provide ancillary benefits for water treatment. They immediately increase retention time as the flow of water is "redirected" through or around the BFTWs and the physical embodiment of the BFTWs also physically traps solids within the water column.
---
2nd Place Youth Environmental Education
Oppe Elementary Campus of Coastal Studies
Galveston, TX
Since 2010, Oppe Elementary School has implemented a Coastal Studies program which infuses coastal concepts with standard curriculum. Students create detailed products that showcase their knowledge of a variety of coastal topics through two main events that are hosted at their school. These events are Ocean Discovery Night and Coastal Carnival which allow the students to show their families and the community what they are studying about in the classroom and Science Lab. Located on Galveston Island, this program utilizes a variety of resources that island living has to offer. Students are exposed to eco-field trips that promote restoration of habitats such as the sand dunes and wetlands. On a weekly rotation students attend Science Lab which gives them a chance to learn about wetlands, marine life, conservation, and fascinating features about the ocean through hands-on experiences. By partnering with a variety of organizations such as Texas A&M Galveston, Artist Boat, Texas Parks and Wildlife, NOAA, Moody Gardens, The Galveston Bay Foundation, and several others it allows for experts to share their knowledge with the students through presentations and field trips.
Students and the community are made aware of how they can help protect and be good stewards of the island through participating in service learning projects such as our Adopt-a- Beach cleanups and campus garden parties that teach families about native plants. Oppe's Green Team recently wrote a Bill that has been submitted to the Texas House of Representatives by Craig Eiland which designates that the Kemp Ridley Sea Turtle become the official sea turtle of Texas. At Oppe the students are encouraged to be lifelong learners about the environment around them.
---
2nd Place Environmental Justice/Cultural Diversity
Mississippi Coalition for Vietnamese-American Fisher Folks and Families
Biloxi, MS
The MSCVAFF Coastal Restoration: Education and Community Engagement Project promotes community education and empowerment with a particular focus on engagement in the Natural Resource Damage Assessment (NRDA) and the Coastal Restoration process in Mississippi. As a result of the BP Oil Spill's devastating impact to the ecosystem, fisheries and other natural resources in the Gulf of Mexico, Vietnamese-American fisher folks expressed their likelihood of being able to continue fishing as one of their primary concerns. In 2011, to start addressing this community priority, MSCVAFF initiated the above referenced community education and empowerment program with a particular focus on engagement in NRDA and the Coastal Restoration process in Mississippi. MSCVAFF utilized the important strategy of grassroots organizing to influence policy. MSCVAFF increased and strengthened efforts to conduct targeted outreach, addressed language access needs, and organized a series of focus groups/ community meetings for the purpose of helping fisher folks become more educated on the coastal restoration process and its critical link to their livelihoods.
In 2012, MSCVAFF continued its outreach efforts and over 80 Vietnamese-American fisher folks attended a NRDA/ Early Coastal Restoration training that MSCVAFF helped facilitate. They provided both translated materials and simultaneous interpretation by qualified interpreters. With the aid of MSCVAFF staff, the fisher folks were provided a forum to conceptualize project ideas (e.g., shrimp aquaculture and oyster farming) that could potentially be considered for a coastal restoration selection project and ultimately implemented. Soon thereafter over 50 fisher folks attended a series of Early Coastal Restoration public meetings in each of the coastal counties. As a result of MSCVAFF's organized forums and focus groups on Phase 1of Mississippi's Draft Early Restoration Plan and Environmental Assessment (DERP/ EA), over 170 comments were submitted to the Federal Council of Trustees as well as the to the Mississippi Department of Environmental Quality (MDEQ), the State NRDA trustee for Mississippi.
---
2nd Place Civic/Non-Profit
Are You an Eco-Hero?
Gulfport, MS
The Eco-Hero project is the first product to communicate the Gulf of Mexico Alliance Priority Issues to the public in a fun, interactive way. The Eco-Hero game benefits a broad community, including millions of residents and visitors to the Gulf of Mexico. The data integrated into the game (e.g., oceanographic and meteorological conditions, water quality, ecosystem services, natural and anthropogenic stressors to the GOM, community resilience), incorporates the value and need for research, monitoring, and careful management of the Gulf's living and non-living natural resources. Using 'Super Seagrass' as nurseries and 'good neighborhoods,' players explore how their everyday lives and livelihoods are connected to the GOM and how their choices and actions affect the health of the Gulf and its human and non-human residents.
---
2nd Place Individual
Dr. Chuanmin Hu
St. Petersburg, FL

Prof. Chuanmin Hu has contributed significantly to maintaining a healthy Gulf of Mexico in the past decade. These achievements include: 1) > 50 refereed articles on Gulf of Mexico water quality (e.g., oil spills) and algae blooms (e.g., red tides) to assist management decision support; 2) establishment of cutting-edge online tools, including a Virtual Antenna System (VAS) and a Virtual Buoy System (VBS), to share water quality information with various stakeholders in near real-time; 3) working with various state agencies and environmental groups to address water quality problems; 4) extensive education/outreach activity to increase public awareness of the Gulf of Mexico water quality state.
Professor Hu is truly motivated to help sustain a healthy Gulf. What is exceptional is that in addition to his normal duties at USF, he is dedicated to helping the community through education and outreach as well as through working with stakeholders and providing customized data products and timely information. Such information on red tides, Sargassum, and oil spills has helped various user groups to develop improved strategies to monitor or adapt to these events or mitigate their adverse impacts. The data products have also been useful in aiding numeric nutrient criteria development for coastal waters by Florida Department of Environmental Protection and EPA.
---
2nd Place Bi-National
Gulf 360
Corpus Christi, TX
Gulf 360 is a one-stop document and searchable geospatial database that focuses on the coastal socioeconomic characteristics of the Gulf of Mexico. Gulf 360 is the first effort that encompasses socioeconomic data from the three countries in the Gulf of Mexico (Cuba, Mexico, United States) and can act as a benchmark for future analysis. The output can be used by the private sector, non-governmental organizations, academics, and government entities in order to make more effective decisions by incorporating socioeconomic information. Gulf 360 was developed by the Harte Research Institute in collaboration with the Centro de Especialistas en Gestión Ambiental, Mexico.
---
2nd Place Partnerships
NASA DEVELOP
Hampton, VA and Stennis Space Center, MS
NASA DEVELOP is a capacity-building program engaging students to utilize NASA Earth observations to address community environmental concerns. DEVELOP interns at NASA's Stennis Space Center established a partnership with local nonprofit organizations to provide analysis and recommendations for suitable planting sites for bald cypress trees in St. Bernard Parish, Louisiana. As a result, partners are currently using this analysis, instead of their previous subjective methods, to direct the spring 2013 planting of 6,000 saplings. Through this ongoing collaboration, DEVELOP and partners are discussing including results in the Parish's master plan and extending the methodology to determine mangroves planting sites.
---
1st Place Business/Industry
Monsanto Company
St. Louis, MO
The Monsanto Mississippi River Project engaged four NGOs (Audubon Society, Delta Wildlife, Iowa Soybean Association, and The Nature Conservancy) to advance conservation efforts that are reducing sediment and nutrients flowing to the Gulf of Mexico. The partnership effort was used to leverage conservation investments throughout the project area which are producing significant and quantifiable improvements in water quality, while creating and improving habitat for many species of fish and wildlife. With this project, Monsanto has set the bar for agribusiness conservation investments in the Mississippi River Basin.
---
1st Place Youth Environmental Education
Kidslovethegulf.org
Baton Rouge, LA
G is for Gulf is a children's book dedicated to sharing facts and educating youth about the incredible ecosystem that is the Gulf of Mexico. The book takes the young reader through the ABC's of the Gulf, with well researched facts and colorful illustrations. It was written, edited, illustrated and guided through the publishing process by kids ages 9 through 16. Targeting the elementary school age reader, there is a starfish hidden on every page to engage even the youngest readers as they explore this wonderful part of our world and the animals we share it with.
Published in October of 2012, the book project was launched during the summer of 2011 by the non-profit organization kidslovethegulf.org. This group was founded by a brother and sister team in 2010 by Rory (then 11 years old) and Maeve (then 7 years old) out of a heartfelt response to the BP oil spill. By sharing interesting facts and information about the Gulf, the book supports Rory & Maeve's message to their generation: the Gulf is a valuable yet fragile resource that they must respect and take care of. The inspirational message that "even a kid can make a difference" empowers the younger generation to take charge of conservation in order to preserve this essential marine and coastal habitat.
---
1st Place Environmental Justice/Cultural Diversity
Isle de Jean Charles
New Orleans, LA
Isle de Jean Charles, "Saving a Vanishing Culture" has successfully created over 1,500 linear feet of protective "Recycled Shoreline" called Floating Islands. This protects the ONLY road linking two historic Louisiana Native American tribal communities to the main land. It also helps sustain and enhance coastal protection, fisheries and habitat in a region that is devastated by hurricanes, flooding and coastal erosion.
---
1st Place Civic/Non-Profit
Clinic for the Rehabilitation of Wildlife, Inc. (CROW)
Sanibel, FL
For more than 40 years, CROW has been caring for and rehabilitating sick, injured or orphaned wildlife, including many threatened and endangered species, through a conservation medicine approach to care. In addition, CROW provides education to young people and adults that increases awareness of appropriate human/wildlife interaction and emphasizes the need for conservation of Southwest Florida's coastal wildlife habitats.
Since its establishment in 1968, CROW has treated and released more than 60,000 wildlife patients. CROW sees thousands of patients each year representing more than 200 species of mammals, reptiles, birds and amphibians. Many of these animals are threatened or endangered including wood storks, sandhill cranes, bald eagles, least terns, gopher tortoises and loggerhead, Kemp's Ridley and green sea turtles. CROW is the only gulf coast facility between Sarasota and the Florida Keys licensed to care for sea turtles. CROW takes a conservation medicine approach to wildlife rehabilitation with the ultimate goal being the reintroduction of wildlife into their natural habitats and a reduction of wildlife casualties from human interaction through public education.
---
1st Place Individual
Dr. Dawn Lavoie
Mandeville, LA

Dr. Dawn Lavoie was the Gulf Coast Science Coordinator for the USGS for 7 years before retiring at the end of 2012. She also served on the Gulf of Mexico Alliance Habitat Conservation & Restoration Team. In her tenure, she led several projects related to monitoring, science, and restoration support for barrier islands around the Gulf of Mexico. She was also staffed to the Gulf Coast Ecosystem Restoration Task Force and helped write the Gulf of Mexico Ecosystem Restoration Strategy, as well as co-lead the Science Coordination Team which published the Gulf of Mexico Ecosystem Science Assessment and Needs.
Dawn is especially deserving of this award because in her passion for loving the Gulf of Mexico, she always spoke out for what was "right!" This was evident when Dr. Lavoie spoke out to save the Chandeleur Islands (part of Breton National Wildlife Refuge) when the Deepwater Horizon Oil Spill Berm was being proposed. Her work and research assured that the berm would not ultimately damage the island and precious Refuge over the long term.
---
1st Place Bi-National
Gulf of Mexico Large Marine Ecosystem
Mexico and the United States
The efforts of Mexico through SEAMARNAT (Secretariat of Environment and Natural Resources, Mexico) and the National Oceanic & Atmospheric Administration Southeast Fisheries Center to develop a UNIDO (United Nations Industrial Development Organization) Large Marine Ecosystem for the Gulf of Mexico came to fruition in 2009. Since then, concepts of the connectivity among all the ecosystems as part of the whole Gulf of Mexico ecosystem and the theory of a system with no physical or ecological boundaries, despite national ownership of shores and exclusive economic zones, have been the forefront in the development of strategies and implementation to the benefit of societies and resources of all nations.
The Gulf of Mexico Large Marine Ecosystem (GoMx LME) began as a concept for the Gulf of Mexico many years ago as part of the LME program of the National Oceanic and Atmospheric Administration under Dr. Ken Sherman. The goal of the LME is to set the foundations ecosystem-based management approaches to rehabilitate marine and coastal ecosystems, recover depleted fish stocks, and reduce nutrient overloading. The program was officially designated as part of the GEF UNIDO (Global Environment Facility, United Nations Industrial Development Organization) Large Marine Ecosystem framework in early 2009. Today, the program is a strong, viable and truly interactive partnership of the U.S. and Mexico.
---
1st Place Partnerships
Naval Support Activity Panama City
Panama City Beach, FL
Naval Support Activity Panama City (NSA PC) discovered an innovative remedy to address years of erosion from natural and man-made causes along the NSA PC St. Andrew Bay shoreline. Utilizing a living shoreline versus armored coastline of rip-rap or concrete sea walls, the NSA PC Environmental Office (EO) took the initiative to help protect one of the few remaining pristine bays with significant sea grass beds remaining in NW Florida. In doing so, juvenile habitats and foraging grounds for local fish and other estuarine species of St. Andrew Bay and the Gulf of Mexico are enhanced and protected from contaminants.
NSA PC partnered with the local community hosting 28 events from October 2010 to July 2011 that involved two Earth Day shoreline cleanup events, oyster reef installation and grass plantings. Volunteers ranged from high school students in advanced science classes, volunteers from local environmental organizations, Navy and Air Force military and civilian personnel, plus 100 students from eight universities that volunteered as an alternative Spring Break. Over 600 volunteers donated an astounding total of 2840 hours in support of the project. The project installed a living shoreline along 2,800 feet of NSA PC's shoreline.