2009 Gulf Guardian Winners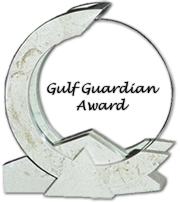 ---
3rd Place - Business
Alabama Power Company-Plant Barry
2009 Renew Our Rivers Project
Alabama Power Company's, Plant Barry conducted a Renew Our River Mobile clean up event from May 5th to May 9th, 2009. Plant employees concentrated clean up activities on approximately 10 miles of the Mobile River from Mount Vernon to Creola, Alabama. Additionally, plant employees, family members, and local Boy Scout Troop representatives collected trash on May 9th along two miles of a local road and at the Ellicott Stone Park located within the LeMoyne Industrial Park. This project was in support of Alabama Power Company's Renew Our River initiative to enhance the preservation of the Mobile River and the adjoining Dead Lake watershed. Plant Barry's "Renew Our River" (ROR) project is part of the Alabama Power Company ROR program, the southeast's largest river/lake clean up campaign. Plant Barry has participated in this program since 2004. During these six years, more than 160 volunteers have removed 28.5 tons of trash from the Mobile River, the Ellicott's Stone Park and along Salco Road. This area along the Mobile River was acquired as part of the Alabama Forever Wild Preservation Program. It includes 20,000 acres of delicate swamps, river bottomlands, and bay marshes along 30 miles of the Mobile Bay Estuary system. The River Cleanup benefitted the environment by enhancing its natural beauty, preservation of scenic/recreations use, and support of the environmental and natural wildlife in the local estuary region.
3rd Place - Education
Nueces River Authority
Education and Outreach Program for the Coastal Bend
Since September 2006, the Nueces River Authority has been bringing innovative education to the people of the Texas Gulf Coast including the coastal areas of the Nueces River and adjoining coastal basins. The program is supported by the Clean Rivers Program and local contracts. They partner with the Center for Coastal Studies at TAMUCC, Texas Agrilife Extension, Coastal Bend Bays and Estuary Program, Texas State Aquarium – Sea Lab and others. Over the past three years they have attended 52 events in Nueces, Jim Wells, Refugio, and Bee Counties. Since September 2006, the Nueces River Authority (NRA) Education and Outreach Program for the Coastal Bend has delivered education to over 2800 people at 52 events in Nueces, Bee, Jim Wells, and Refugio Counties. Using original hands-on teaching tools, they take the lesson to the people, demonstrating the importance of clean waterways for drinking water, recreation, land, and animal health. The presentations use the Nueces Basin Watershed Model, the Wetland on Wheels, and a Rainfall Runoff Model – all hands-on, interactive tools. The presentations touch on questions of the TEKS standardized tests (water cycle, weathering, non-renewable resources, habitats, adaptations, conservation, use of natural resources, limitations of models, sources of water in a watershed, and the relationships between ground and surface water) to help support the school curriculum.
3rd Place - Government
Gulf Geospatial Assessment of Marine Ecosystems (GAME)
Florida Institute of Oceanography
Florida Fish and Wildlife Research Institute
Gulf GAME was developed to provide database infrastructure to support one of the US EPA's Strategic Plan Objectives, which aims to protect, sustain and restore the health of critical natural habitats and ecosystems. By providing core data layers that illustrate the current extent of benthic or deep-sea habitats, as well as habitats associated with the water-column, managers will be able to focus their energies on those areas of critical concern due to loss or degradation. The aim of the project is to develop an inventory of existing marine habitat-related information within the Gulf of Mexico. This will serve as a foundation to develop a spatial framework for ecosystem-based management associated with regulatory and planning programs and areas of government coordination. The data inventory has both a regional and local scope and focuses on gathering data and mapping coastal habitats from the estuaries onshore to the edge of the continental shelf offshore. By identifying all scientific data (such as seagrass beds and coral reefs) through this cataloging and mapping effort, coastal managers can protect and/or conserve priority habitats, identify water quality issues, and help maintain the ecological integrity of coastal areas of the Gulf of Mexico. The most important feature of the GAME catalog is that it allows linking to data sets of interest. It is compliant with Federal Geographic Data Committee (FGDC) standards. Also, the GAME staff designed and deployed an internet application (http://research.myfwc.com/gulfgame

) to gather information and attendant metadata from researchers, resource managers, and the public. To date the GAME catalog has 2222 entries.
3rd Place - Civic/NonProfit
River, Lakes, Bays 'N Bayous Trash Bash
The Texas Conservation Fund
In 1994, the Houston-Galveston Area Council (H-GAC) and the Texas Commission on Environmental Quality organized the first River, Lakes, Bays 'N Bayous Trash Bash® with 12 sites. In 1999, the River, Lakes, Bays 'N Bayous Trash Bash® Steering Committee took ownership and began managing the event. The 16th annual event was held on Saturday, March 28, 2009. Sixteen clean-up sites hosted more than 4,600 participants who cleaned up 429,900 pounds of trash (214.95 tons) along 97 miles of shoreline. Over the past sixteen years, close to 60,000 volunteers have collected more than 1,900 tons of trash from the greater Houston area waterways. The Texas Conservation Fund is the 501 (c) (3) organization for the River, Lakes, Bays 'N Bayous Trash Bash®. Their mission is to promote environmental stewardship of our watershed through public education by utilizing hands-on educational tools and by developing partnerships between environmental, governmental and private organizations. This year's Trash Bash® involved 16 clean-up sites and utilized a new educational display designed as a "guessing game" to educate participants about various decomposition rates and why it is so important to recycle and dispose of items properly.
3rd Place - Individual
Mike Rogers
3rd Place - Partnership
Matagorda Island Marsh Restoration Partnership Project
The Coastal Bend Bays and Estuaries Program (CBBEP) and the U.S. Fish and Wildlife Services' Aransas and Matagorda Island National Wildlife Refuge, began work to restore approximately 15,000 acres of saltmarsh on Matagorda Island. The area known as the Western Marsh serves as critical habitat for the whooping crane and provides habitat for crabs, shrimp, fish, and migratory birds. In the 1950's the estuarine marsh was sectioned off with constructed levees so that they could be drained for cattle production. Although this program was generally ineffective at producing productive rangelands, the resulting modifications to the hydrology and elevations resulted in colonization by non-native species and an altered circulation, exchange, and drainage patterns. The system of levees and roads remains mostly intact, with the exception of some recent restoration work. In 2007, the CBBEP and the U.S. Fish and Wildlife Service developed an Adaptive Management Plan (AMP) to guide and prioritize this restoration effort. By the summer of 2008 approximately 2,500 aces of marsh were restored by the removal of sections of levee as well as the installation of culverts in key areas identified in the AMP. The project is a cooperative effort between CBBEP, the Refuge, the U.S. Fish and Wildlife Service Coastal Program. All have provided funding and technical expertise to the project. Other project partners have included Texas Parks and Wildlife Department, Friends of Aransas and Matagorda Island National Wildlife Refuge, Fish America, and Tivoli ISD.
---
2nd Place – Business
ConocoPhillips Lower 48 Philanthropic Program
Barataria Terrebonne National Estuary Program Bird Calendars
Beginning several years ago, the Barataria-Terrebonne National Estuary Program (BTNEP) fostered a partnership with ConocoPhillips to educate birders across the country to the plight of Louisiana's wetlands as well as the importance of these wetlands to migratory birds. To accomplish this, several calendars were produced, each focusing on a different group of birds. The first of the three calendars was entitled "Wings Over the Wetlands…Louisiana's Waders" that highlighted the significance of our state's wading birds and the potential impacts of the 2005 hurricane season. The second calendar was entitled "Louisiana Raptors…Birds of Prey" This calendar focused on the state's diurnal raptors and how Louisiana lies along important migratory routes for many of these species. The third calendar entitled "Breeding Wood Warblers" highlighted those warblers that nest across the state. These beautiful and educational calendars were sent to thousands of people across this country free of charge. This was done through the financial support of ConocoPhillips Lower 48 Philanthropic Program. After these calendars were distributed; both BTNEP and ConocoPhillips received hundreds of emails and letters thanking them for these calendars. They have not only educated people about Louisiana's coastal land loss crisis and the birds that depend upon this habitat, but also promoted avian tourism for the state.
2nd Place – Education
SCUBAnauts International-Tampa Bay Chapter
Gulf of Mexico Mitigation Reef Assessment
SCUBAnauts International is a non-profit youth education organization that uses SCUBA diving and expertise from federal, state and university scientists to immerse students (12-18) in marine science research. SCUBAnaut students monitored corals in the Gulf of Mexico, as part of Dr. Jennifer DuPont's dissertation at the University of South Florida (USF), College of Marine Science. Dr. DuPont and 24 SCUBAnaut students were joined by Dr. Christopher Moses (Jacobs/US Geological Survey, USGS) and Dr. David Palandro (Florida Fish and Wildlife Research Institute, FWRI) to monitor the changes to the habitat before, during and after the 2005 red tide event. USF scientists, along with three or four SCUBAnauts per trip, were tasked with the monitoring component of the project. They collected and analyzed data from eight 1 m2 photographic mosaics at haphazardly chosen artificial reef sites on a quarterly basis to track epibenthic community development. This work represents a critical extension of a monitoring study of recruitment and succession on artificial reef structures after the 2005 red tide event. The study, conducted in conjunction with the Florida Aquarium, Gulfstream Natural Gas Systems (GNGS), and USF provided a focused time series (2005 to 2007) before and after the catastrophic 2005 red tide disturbance. The new science data acquired for the completion of this project provides insight into the resilience of coexisting natural and artificial flora and fauna after a significant red tide event. These young scientists are the next generation of Gulf stewards and already feel a level of "ownership" of the marine environment
2nd Place - Government
Sarasota Environmental Aquatics Team
SEA TEAM
Broad-scale seagrass monitoring has been ongoing within Sarasota County since the 1988 aerial photography interpretation was completed by the Southwest Florida Water Management District (SWFWMD). During the 2006 seagrass photography, Sarasota County staff collected data on the ground. Post mapping accuracy, map versus ground truth data suggested that more concurrent field data could produce a more accurate map. Around the time of learning of the map accuracy results, the County was approached by the Mangrove Coast Fly Fishers. This organization was searching for an environmental project that they could tie to fishing. The idea of volunteering to provide data regarding seagrass habitats was presented and accepted. Members of the Flyfishers were recruited and a training session was held. They were tasked with visiting as many points within the bays and to record their observations. This initial field season provided 331 survey points. For the first time, environmental managers not only knew the extent of seagrass beds from the SWFWMD maps but now knew through a broad picture of the spatial extent of the species present, something not currently available through aerial techniques. The Winter 2007-2008 sampling brought about another cycle of SWFWMD aerial mapping. Through 4 seasons, 2,171 survey points have been surveyed. From this, spatial variation of seagrass species has been established. This data will play an important role as agencies set water clarity goals to protect the species locally.
2nd Place - Civic/Nonprofit
Clear Creek Environmental Foundation
Four months after Hurricane Ike hit in January 2009, hazardous debris and trash in Galveston Bay waters along the Seabrook, Texas waterfront remained. A grass roots environmental group, the Clear Creek Environmental Foundation (CCEF), mobilized resources and lent a much needed hand by organizing a massive clean-up effort to remove over 152 tons of trash and debris from Galveston Bay. CCEF valiantly led hurricane-stricken communities to join forces and do what state and federal officials had not yet been able to address in the wake of a devastating storm. Volunteers partnered to gather the resources, manpower, and technical expertise to clean up over 152 tons of debris from their bay front waters. CCEF was able to quickly and effectively mobilize the clean-up efforts using volunteer labor, boats, and supplies. The collected debris was pulled from the murky bay waters, loaded into barges, and taken to a collection area quickly coined "Seabrook Mountain" until it could be eventually removed by the city. All recyclable debris was taken to proper recycling areas. The effort not only benefitted public safety and bay health by removing polluting trash and debris and navigation hazards, it also buoyed community spirits by showing how a small group of citizens can make a difference and lead response efforts in times of national disasters. This heroic post-hurricane response follows concentrated volunteer environmental efforts led for 11 years by CCEF with the goal of preserving and enhancing the Clear Creek and Clear Lake environment to maintain its natural resources, fish and wildlife, and beauty for the present and future.
2nd Place – Individual
Captain Jayson Horadam
Captain Jayson Horadam serves as a Captain in the Florida Fish and Wildlife Commission. After transferring to Collier County in Southwest Florida in 2005 from the Florida Keys National Marine Sanctuary, Jayson has demonstrated outstanding leadership in establishing a cooperative network of marine law enforcement personnel from federal, state, and local agencies within the region. His commitment to the environment and to effective communication has served as a catalyst for transforming traditional law enforcement into a collaborative partnership designed to educate citizens about the values of the Gulf coast, while strengthening enforcement through increased sharing of information and limited resources. Jayson has led the development of regional training forums for local enforcement officers, including workshops on the enforcement of the Florida ban on use of inshore nets, and cross training for federal and state officers.
2nd Place - Partnership
Gulf of Mexico Marine Debris Project
During the 2005 hurricane season, Hurricanes Katrina and Rita inflicted severe damage on the Gulf of Mexico coastal region and deposited huge amounts of debris over large areas of the Gulf nearshore waters. This submerged marine debris posed a persistent hazard to commercial navigation, fishing activities, recreational boating, and living marine resources. In an effort to address marine debris impacts on the Gulf Coast, Congress tasked NOAA Office of Coast Survey (OCS) and Office of Response and Restoration (OR&R) in July 2006 to conduct survey and mapping of nearshore waters impacted by Hurricanes Katrina and Rita to facilitate debris removal. Survey work began in August 2006 in Alabama, Mississippi, and eastern Louisiana and by the end of Phase I (December 2007), 735 square nautical miles had been surveyed with over 5,000 submerged potential debris items identified. This information was entered into a database, mapped, and posted on the project website to advise fishers and boaters of the submerged objects, and assist with US Coast Guard (USCG)-led marine debris removal activities. In 2008 and 2009, Phase II of the project focused exclusively on Louisiana. Integrating lessons learned from Phase I of the project, NOAA staff maintained a consistent field presence to coordinate with the USCG, Federal Emergency Management Agency (FEMA), and Louisiana Department of Natural Resources (LDNR) to survey Louisiana nearshore waters, map the side scan sonar targets, and post them on the project website. Over 600 square nautical miles have been surveyed in Phase II and 1,250 targets have been found and mapped.
---
1st Place – Business
ConocoPhillips Lower 48 Philanthropic Program
Gulf of Mexico Foundation -Marine Workshops for Educators
The Gulf of Mexico Foundation's (GMF) Down Under Out Yonder (DUOY) program introduces teachers to the ecology of coastal habitats and coral reefs. Teachers from around the U.S. join to explore the coastal and coral reef habitats of the northwestern Gulf of Mexico. In partnership with the NOAA Flower Garden Banks National Marine Sanctuary the GMF hosted the coral reef program for the 14th year and with its funding partner, ConocoPhillips Lower 48 Philanthropic Program, initiated the first Teachers' Intracoastal Waterway Expedition. Teachers from 10 different states participated in these live-aboard boat based expeditions in 2009. The DUOY program has been in effect for 14 years, and for three of them, ConocoPhillips Lower 48 Philanthropic Program has been its primary sponsor. They sponsored the inaugural year of the new Intracoastal Waterway Expedition and taught segments of the curriculum dealing with natural resources and wetlands. In the 14 years of the DUOY program, over 250 educators have gone through the program. The Intracoastal Waterway Expedition was a great success. The cruises were on-board the M/V Fling, a 118-foot live-aboard vessel. The objectives these programs are to leave educators with the means to actively involve their students in the learning process, to expose them to coastal ecology, and to share personal experiences about working and living in coastal communities.
1st Place – Education
Science Museum of Minnesota
Water Quality in the Upper Mississippi River - A Research and Education Initiative
The Science Museum of Minnesota (SMM), the premier science education center in the upper Midwest, and its environmental research institute, the St. Croix Watershed Research Station (SCWRS), have conducted ground-breaking research on historic changes in water quality in the upper Mississippi River – the results of which are currently guiding comprehensive state-wide efforts to reduce nutrient and sediment inputs to the river. And through a 7,000 square-foot traveling exhibition, Water, developed jointly with the American Museum of Natural History (AMNH), the SMM is reaching hundreds of thousands of visitors on the role that water plays in shaping our land and cultures from the headwaters of the Mississippi River in Minnesota to the Gulf of Mexico. The Water exhibit opened at AMNH in November 2007 and began touring in spring 2008. Two copies of the exhibit exist so that the show can tour international venues and major U.S. cities simultaneously. While Water was at SMM in winter 2009, SMM further enriched the show by adding an exhibit component about the Mississippi River Delta with the help of the National Center for Earth-surface Dynamics (NCED) and by providing Non-point Educational for Municipal Officials (NEMO) workshops to local watershed and municipal offices in partnership with Minnesota Extension and the Saint Paul Riverfront Corporation. These exhibits are in addition to the SMMs Mississippi River Gallery that has served as an educational focus of the SMM. That exhibit has included an emphasis on the interconnectedness of our waters including drawing attention to the Gulf dead zone.
1st Place - Government
Baldwin County Commission
Magnolia Springs Restoration Project
The Magnolia Springs Restoration Project restored a cultural, ecological, and sociological landmark in Baldwin County, Alabama. The objective of this project was to stabilize an existing site from degradation from on-site erosion and storm water infiltration and restore the wetland, riparian, and stream habitat to its natural state. Prior to this project, previous flood events had severely damaged the site to the point that local officials deemed it necessary to conduct a full-scale construction project in order to stabilize the existing landscape. That work was done without regard for environmental degradation during a time when wetland issues were not at the forefront of Baldwin County priorities. The project involved installing retaining walls, a cobblestone paved stream bank, and concrete walkways. Essentially all native vegetation was replaced with sod and maintained in turf-like fashion. An extreme flood in April 2005 undermined this construction project. Baldwin County officials saw this event as an opportunity to return the site to its natural state. They removed the retaining walls, concrete walkways and pavers along the stream bank. The site was replanted with native vegetation and restored approximately 1/2 acre of wetlands and improved function to approximately 8 acres of wetland. in Magnolia Springs. The project was funded by an EPA 5 Star Restoration Grant, the Mobile Bay National Estuary Program and the Baldwin County Commission. Additional partners were the Town of Magnolia Springs, the Magnolia Springs Garden Club and Volkert & Associates, Inc
1st Place - Civic/Nonprofit
Delta F.A.R.M.
Farmers Advocating Resource Management
Delta Farmers Advocating Resource Management (F.A.R.M.) is an association of growers and landowners that strive to implement recognized agricultural practices which will conserve, restore, and enhance the environment in the Yazoo River-Mississippi Delta region of Northwest Mississippi. Over 21 nongovernmental organizations and state and federal natural resource agencies participated in the development of the program which accesses farms and guides cooperating producers to attain the highest possible level of land and water resource stewardship. The purpose of the program is ensure a more sustainable and profitable future for agriculture. Delta F.A.R.M. has enrolled over 1,000,000 acres into the environmental program. Currently, Delta F.A.R.M. has 209 producers participating in the program representing 1,014,119 acres of land in Mississippi's Yazoo River-Mississippi Delta. These producers submit annual evaluations where they have been assisted by Delta F.A.R.M. staff in the development of conservation plans to address specific environmental and natural resource issues on their properties. Numerous programs and services are provided by Delta F.A.R.M. to its members. Delta F.A.R.M. was established by proactive farmers, for farmers, in order to better address natural resource concerns and to foster a more sustainable future for agriculture. The organization achieves this goal by leveraging technical and funding support provided by private entities, state and federal natural resource agencies, and nongovernmental organizations to benefit its membership and provide important and accurate important information.
1st Place - Individual
Kerry Michael St. Pé
The programs and accomplishments of the Barataria-Terrebonne National Estuary Program (BTNEP) bear the obvious influence and guidance of the Director, Kerry St. Pé in development and oversight of the BTNEP Management Conference, all areas of education and public outreach, management decisions, and guidance in coastal protection and restoration. Kerry St. Pé's efforts extend beyond the BTNEP boundaries, well outside the landscape between the levees of the Mississippi and Atchafalaya Rivers, into others areas of the Mississippi River deltaic plain, the cheniers of southwestern Louisiana and the wetlands and coastal landscapes of surrounding Gulf states. As Director of the Barataria-Terrebonne National Estuary Program (1997 – present), he is the linchpin for citizen and stakeholder involvement in the management and future of the estuarine basin upon which all depend for homes, income, renewable and non renewable resources, and culture. Kerry St. Pé's true leadership came forth in the aftermath of Hurricanes Katrina and Rita when he became the spokesperson for the lost homes, lost memories, lost lives, and lost marshes in the swath of the two hurricanes. He took it upon himself to begin an urgent, accelerated education of the citizens of Louisiana of their heritage and their vanishing wetlands. He was one of the first individuals to reach Grand Isle along with the media to describe and explain the impacts of the hurricanes on the communities, the barrier shorelines and the marshes. His efforts at informing the public, the U.S. and the world of the severe damages wrought on the landscape and human society were tireless. Kerry St. Pé epitomizes citizen concern, stewardship and leadership for the Louisiana coastal landscape in which he grew up, makes his home, and his children's homes.
1st Place – Bi-National
The Gulf of Mexico Foundation, Corpus Christi, Texas
Science & Spanish Club Network &
Colegio Juvenal Rendon de Matamoros, Tamaulipas, Mexico
The Gulf of Mexico Foundation's Science & Spanish Club Network (SSCN), established in 2000, is a multicultural approach to coastal environmental education with a focus on the Gulf of Mexico, Caribbean and Upper 31States ecosystems. SSCN started in 2000 with two middle schools from Corpus Christi, Texas and Matamoros, Tamaulipas, Mexico. The exchange between these two schools was founded in the experiences of a group of fourth grade students from Colegio Juvenal Rendon de Matamoros who came to the Gulf of Mexico Program's Gulf of Mexico Symposium held in March 1995 in Corpus Christi aboard the USS Lexington. The SSCN is an extracurricular and informal education program that uses critical habitat watersheds and shared ecosystems as the framework for developing environmentally engaged youth in grades 4-12 from primarily coastal and rural communities in Mexico, Texas, Louisiana, Puerto Rico, St. Croix and soon Colorado, Montana and Minnesota. The SSCN strives to create the next generation of leaders in stewardship of the greater Gulf of Mexico community. The Science & Spanish Club is named that because the next generations of Gulf leaders have to know their science and be communicators of that science within the greater Gulf community.
1st Place – Bi-National
Parque Nacional Sistema Arrecifal Veracruzano, Mexico &
The National Coral Reef Institute, USA
The Parque Nacional Sistema Arrecifal Veracruzana (Veracruz Coral Reef System National Park) consists of 17 reef components surrounding the port of Veracruz, Mexico, and encompasses a total of 52,000 hectares. The reefs, judged among the highest at risk reefs in the wider Caribbean area, receive substantial freshwater runoff from multiple sources but primarily from two extensive river drainages, major river systems, which carry heavy sediment and agricultural as well as industrial and sewage loads. Further impacts include ship groundings, oil spills, port construction and heavy fishing pressure. The National Coral Reef Institute is collaborating with the Veracruz Coral Reef System National Park in an ongoing, 3 years to date, project. The purpose of an ongoing collaboration between the National Coral Reef Institute (NCRI) and the Park is to make an assessment of fish and coral assemblages within the park and correlate the distribution of these assemblages, and the presence of coral disease, to freshwater runoff. This information is critical for establishing and evaluating resource management strategies as well as evaluating the extent of anthropogenic, and other, impacts.
1st Place – Partnership
Sarasota Bay Estuary Program - Sarasota Interlocal Partners and Citizens – Restoring Seagrasses in Sarasota Bay
Seagrass recovery was a major element of the Sarasota Bay Estuary Program's Comprehensive Conservation and Management Plan for Sarasota Bay, Florida. In 1995, a pollutant loading reduction goal of 48% for total nitrogen was set by the Sarasota Bay community with the intent of reestablishing seagrass in the Bay to1950 levels. The results have been phenomenal. Approximately 4,040 acres of new seagrass habitat has been created with an additional 5158 acres converted from patchy seagrasses to continuous covering beds in Sarasota Bay. Recent data indicates that the seagrass levels are presently 30% above the 1950 level, and the Bay has had a 50% reduction in pollution. Scallops returned to Sarasota Bay in 2008 with some of the highest counts recorded in Florida. Now 50-80% of the wastewater from wastewater treatment plants is currently reclaimed for alternative use depending on annual rainfall. Stormwater projects have also been implemented regionally to reduce pollution. Citizens Action Plans have been developed and implemented annually by the citizens committee supporting pollution reduction. Fertilizer ordinances have been passed restricting Nitrogen and Phosphorus application during the summer rainy season. Watershed stewardship actions are being conducted in the region supporting the Florida Yards and Neighborhood concepts, and to reduce stormwater pollution. The Sarasota Bay Estuary Partners instrumental in this outstanding Seagrass restoration and recovery effort include Florida Department of Environmental Protect, Southwest Florida Water Management District, Manatee and Sarasota County, City of Sarasota, City of Bradenton, Town of Longboat Key, City of Bradenton Beach, City of Holmes Beach and Anna Maria Island. Funding has been contributed by all partners and residents to achieve the pollutant load reductions and tremendous seagrass acreage levels now present in the Sarasota Bay. Sarasota Bay is an Estuary of National Significance, and Outstanding Florida Water Body and a designated State of Florida Surface Water Improvement Management Area.
---
Gulf Guardian Award 1st Place Winners 2009 (PDF) (1 pg, 56K, about PDF)
Gulf Guardian Award 2nd Place Winners 2009 (PDF) (1 pg, 56K, about PDF)
Gulf Guardian Award 3rd Place Winners 2009 (PDF) (1 pg, 55K, about PDF)