Gulf Guardian Award Winners 2004
Civic/Nonprofit Organization Category - 3rd Place
Lancobe Heritage Center, Project "Adopt A Spot: Learn-Work-Play"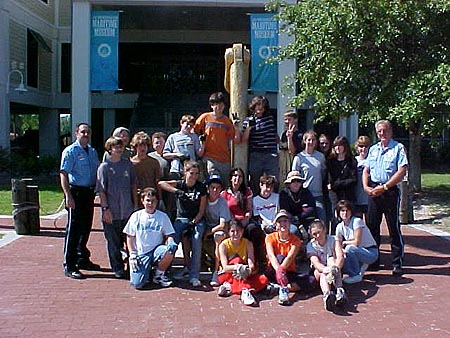 Earth Protectors class of eight graders at Madisonville Jr. Hi in our Junior Ranger Corps posing before the Lake Pontchartrain Basin Maritme Museum before cleaning up trash dumped along Lake Rd. and the Tchefunct River in the Madisonville Marsh.
Left to right back (fourth) row: Kenny Guichard, Madisonville policeman, Lee Fredricks, teacher, Blake Clark, Sean Morgan, Jeremy McCaslin, Brandon Keay, Katherine Dore', Sara Trepagnier, mom.
Third row: A.J. Adams, Brunet Breaux, Buta Shelton, Katelyn Kelly, Charlie Biggers, policeman.
Second Row: Evan Benezech, Jessica Kingsley, Stuart Ridgel, Stephanie Tyrney, Josh Demelo, Josh Smith. First row: Alexandra Zito, Chelsey Richter, Jennie Trepagnier, Amy Gennaro, mom.