Gulf Guardian Award Winners 2003
Youth/Education Category - 1st Place
BALDWIN COUNTY SCHOOLS PROJECT SEAS WINS 1ST PLACE GULF GUARDIAN AWARD (PDF) (2 pp, 56K, about PDF)
Click on the small picture to view a larger size
---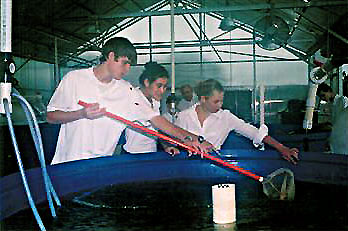 Luke Huggins, Casey Martin, and Jill Pitman catch fish to check weight. Weekly weight changes were recorded and used to calculate feed conversion ratios.
---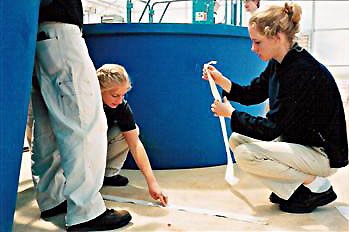 Lauren Littleton and Megan McDuffie use tape to mark the location of the filter and pump. The class later measured and calculated PVC and fittings needed to construct the plumbing for the recirculating system.
---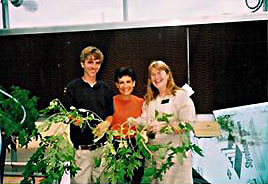 Jake Jacobssen and instructor Karon Bishop sell their first tomato plants to librarian Leslie Lomers. The tomato plants were grown in aquaponic systems designed and constructed by students. Wastewater from the tilapia tanks was filtered through the system and fertilized the tomato plants.
---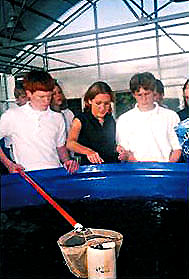 Jeremy Skinner, Lydia Ferrill, and Andrew Jernigan feed the tilapia. Feed amounts were carefully measured and logged by the students and growth rates were calculated weekly to determine feed efficiency.
You will need Adobe Reader to view some of the files on this page. See EPA's PDF page to learn more.