Gulf Guardian Award Winners 2003
Individual Category - 2nd Place
DR. MARK LaSalle WINS 2ND PLACE GULF GUARDIAN AWARD (PDF) (2 pp, 5K, about PDF)
Click on the small picture to view a larger size
---
Regulatory Panel: Seated left to right are Gerald McWhorter, Mississippi Office of the Secretary of State; Andrew Whitehurst, Mississippi Department of Wildlife, Fisheries and Parks; Dr. Robert Travnicek, Mississippi Departmnet of Health; Ron Krizman, U.S. Army Corps of Engineers, Mobile District; Dr. Billy Walker, Mississippi, Department of Marine Resources; and Barry Royals, Mississippi Department of Environmental Quality. This photograph represents a panel discussion session designed to allow interactions between roundtable participants and represenatives of agencies responsible for water related regulations.
---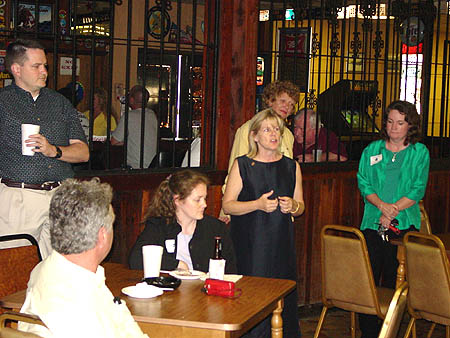 Laura Beiser, Mississippi Department of Environmental Quality; and Jay Mengel, Pascagoula River Alliance at their exhibits during the area roundtable where particpants can network with agencies and groups involved in water and habitat related activities.
---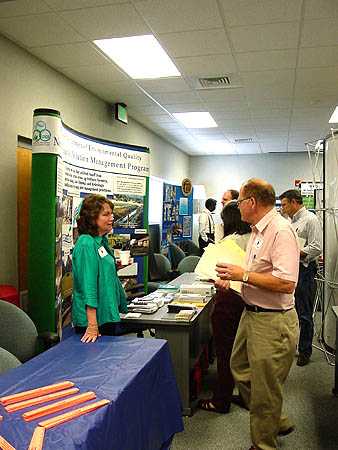 Lawmaker Social: Seated at table is Chris Lagarde (foreground) of Mississippi U.S. Congressman Gene Taylor's office and Vicki Murillo of the Gulf Restoration Network. Standing is Mississippi State Senator Deborah Dawkins of Gulfport, Flinda Hill of Mississippi Power Company and Laura Beiser of the Mississippi Deparmtnet of Environmental Quality. Roundtable interaction during the evening social was designed to allow interactions between elected officials and representatives of state and federal agencies that make up the forum.
You will need Adobe Reader to view some of the files on this page. See EPA's PDF page to learn more.