Gulf Guardian Award Winners 2003
Civic/Nonprofit Organization - 2nd Place
AUDUBON OF FLORIDA WINS 2ND PLACE GULF GUARDIAN AWARD (PDF) (2 pp, 55K, about PDF)
Click on the small picture to view a larger size
---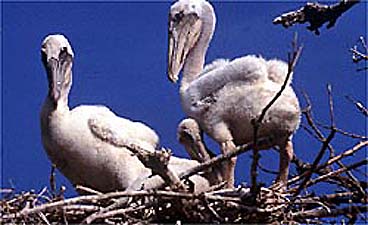 Brown Pelicans nest in trees in Florida. Colonies where pelicans nest are posted to protect the nesting birds from disturbance
Erosion control on nesting islands is a priority. Here are volunteers planting cordgrass, the cordgrass then grows in dense stands, trapping mangrove seedlings, and reducing erosion.

The Alafia Bank Bird Sanctuary in Tampa Bay is the keystone colony of the Coastal Islands Sanctuaries. This last spring, over 16,000 pairs of White Ibis nested here.

Monofilament fishing line poses a danger to birds, fish, turtles, and other wildlife. Audubon organizes a fall fishing line cleanup project to remove line from nesting islands. In the Tampa Bay area, over 50 boat captains will visit nesting islands this October during the non-nesting season to pick up fishing line and prepare the islands as safer nesting habitats for birds next spring.

Reddish Egrets, North America's rarest heron, are slowly colonizing new nesting islands in west central Florida. This species is listed in Florida and Texas, and is a "Watchlist" species of the American Bird Conservancy and the National Audubon Society". This specis is still recovering from near eradication by the plume hunting trade in the late 1880s. Biologists from the Sanctuaries found 60 pairs nesting this year.

Ground-nesting birds like the American Oystercatcher are particularly vulnerable to disturbance by people and their pets. Their nests are shallow scrapes in the sand, just above the high tide line. The birds trust the excellent camouflage of the eggs to protect them from predators. The Sanctuary staff posted islands where 70 pairs of oystercatchers nested last spring, 20% of Florida's oystercatcher population.

Public outreach, signage, regular patrol, population monitoring, habitat enhancement projects, and environmental education form a nucleus of action by Audubon of Florida's Coastal Islands Sanctuaries to protect 50,000 pairs of vulnerable nesting birds on Florida's west central coast.
You will need Adobe Reader to view some of the files on this page. See EPA's PDF page to learn more.