Texas Prairie Wetlands Project Merits Gulf Guardian Award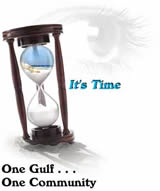 FOR IMMEDIATE RELEASE
CONTACT: KAREN GOELKEL
TUESDAY, MAY 1, 2001
512/239-0046 (Pager 512/875-9213)
Seven out of 18 awards go to Texas projects; 1st place honors taken in 4 of 7 categories
The Texas Prairie Wetlands Project (TPWP) is one of several 2001 Gulf Guardian award winners from Texas that was recognized at the opening day luncheon for the Texas Natural Resource Conservation Commission (TNRCC) Environmental Trade Fair on Monday.
Gulf Guardian awards stem from the Gulf of Mexico Program, a partnership formed in 1988 to develop strategies to protect, restore, and maintain the health and productivity of the Gulf of Mexico ecosystem. Entries came from the five states bordering the Gulf of Mexico--Texas, Louisiana, Mississippi, Alabama, and Florida.
Commissioner John M. Baker of the TNRCC said, "We do have a lot to be proud of here in Texas." Of the 18 Gulf Guardian awards presented, 7 went to Texas projects, and 4 of those winning efforts, including the TPWP, received 1st place honors.
EPA Administrator Christie Todd Whitman said, "There are a wonderful variety of projects--from seagrass and wetlands conservation efforts to marine life and reef fish protection--that are created by concerned individuals who sincerely want to preserve the beauty and vitality of the Gulf of Mexico. Their projects go a long way toward preserving the value of this natural treasure and we appreciate their hard work. The accomplishments of these award winners will help build on the successful initiatives already underway in the Gulf of Mexico program."
Accepting TPWP's award in the Partnership category was Mr. John Burt, state conservationist with the USDA-Natural Resources Conservation Service (USDA-NRCS). The TPWP involves historic waterfowl migration and wintering areas in 28 counties along the Texas Gulf Coast.
Since 1991, wetlands enhancement and restoration assistance has been provided on 281,016 acres held by 400 landowners through this project. TPWP also has installed 460 wetland units on 18,078 acres, with another 1,744 acres presently under agreement for construction by 180 landowners. These wetlands provide habitat for migratory water birds and other wetland species. They also catch and hold flood water, thereby reducing damages downstream, and act as a filtering system for the Gulf of Mexico and adjoining bays and estuaries.
EPA Regional Administrator Gregg Cooke said, "It is exciting to see so many outstanding Texas projects being recognized by the Gulf program. It highlights everyone's commitment to protecting Texas' beaches and Gulf resources."
"Partnerships are one of the elements that define the Gulf of Mexico Program," said Jim Giattina, program director. "We began the Gulf Guardian Awards to highlight and honor some of the partnerships and other projects that are helping the environment and water quality in Texas, other Gulf states, and in the Gulf of Mexico. We are all one Gulf community and have only one Gulf of Mexico. Projects like this are helping to protect our local coastal waters, which significantly contributes to the Gulf's beauty and value," he added.
Funding for the TPWP project comes from USDA-NRCS, the North American Wetlands Conservation Fund, Ducks Unlimited, the U.S. Fish & Wildlife Service, Texas Parks and Wildlife Department, and private landowners.
Texas contenders also finished in 1st place in Business, Non-Profit Organization, and Individual categories. Second place honors for Business and Non-Profit projects, and a 3rd place award for a Youth/Education project, also received recognition at the luncheon.
The Gulf of Mexico Program is underwritten by the U.S. Environmental Protection Agency and is a non-regulatory, inclusive consortium of state and federal government agencies and representatives of the business and agricultural community, fishing industry, scientists, environmentalists, and community leaders from all five Gulf states. The Gulf Program seeks to improve the environmental health of the Gulf in concert with economic development.
Editor's Note: For more information about the Gulf Guardian Awards and the Gulf of Mexico Program, call Terry Hines Smith at 228-688-1159. For more information about USDA-NRCS and the Texas Prairie Wetlands Project, call Martha G. Arteaga at 210-472-5524 ext. 113 or Karen Goelkel at 512-239-0046; pager 512-875-9213. For information about TNRCC and their participation in the Gulf of Mexico Program, call Andy Saenz at 512-239-5018.
All TNRCC news releases are available at http://www.tceq.state.tx.us/.


Please note: the Texas Natural Resource Conservation Commission is now known as the Texas Commission on Environmental Quality.