Dow Wins Gulf Guardian Award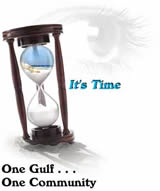 FOR IMMEDIATE RELEASE
April 16, 2001

Seven out of 18 awards go to Texas projects
STENNIS SPACE CENTER, Miss. -- Dow Texas Operations has been named by the Gulf of Mexico Program as a winner of the Gulf Guardian Award for 2001. The award is given each year to honor individuals and businesses that protect and restore the coastal marine waters of the Gulf of Mexico.
Dow is being recognized for helping to develop Sea Center Texas, a state-of- the- art marine fish hatchery and Visitor Center. The Center was designed to rejuvenate marine life in the Gulf coast area near Dow facilities in Freeport, Texas.
Sea Center Texas, is the result of a partnership between Dow, Texas Parks and Wildlife, and the Gulf Coast Conservation Association, with support from Sports Fish Restoration Funds administered through the U.S. Fish and Wildlife Service.
"Partnerships are one of the elements that define the Gulf of Mexico Program," said Jim Giattina, program director. "We began the Gulf Guardian Awards to highlight and honor some of the partnership and other projects that are helping the environment and water quality in Texas, other Gulf States, and in the Gulf of Mexico. We are all one Gulf community and have only one Gulf of Mexico. Projects like this are helping to protect our local coastal waters, which significantly contributes to the Gulf's beauty and value," he added.
The project is unique in the fact that it is a working fish hatchery as well as an educational and entertainment facility that focuses on the importance of protecting the great resources of the Gulf.
Dow donated 75 acres for the $13 million facility. The Center has been operating with great success since 1996.
Since starting operations Sea Center Texas, has replenished the dwindling redfish and speckled trout populations by producing more than 20 million fingerlings a year.
Dow was among 18 winners in the five Gulf Coast States of this annual award. The Texas award winners will be recognized during the opening luncheon of the Texas Natural Resource Conservation Commission's Environmental Trade Fair being held April 30 through May 2, in Austin.
The Gulf of Mexico Program is underwritten by the U.S. Environmental Protection Agency and is a non-regulatory, inclusive consortium of state and federal government agencies and representatives of the business and agricultural community, fishing industry, scientists, environmentalists and community leaders from all five Gulf States. The Gulf Program seeks to improve the environmental health of the Gulf in concert with economic development.
Dow is a leading science and technology company that provides innovative chemical, plastic and agricultural products and services to many essential consumer markets. With annual sales of approximately $ 30 billion, Dow serves customers in more than 170 countries and a wide range of markets that are vital to human progress, including food, transportation, health and medicine, personal and home care, building and construction, among others. Committed to principles of Sustainable Development, Dow and its 50,000 employees seek to balance economic, environmental and social responsibilities.
Editor's Note: For more information about the Gulf Guardian Awards and the Gulf of Mexico Program, call Terry Hines Smith at 228-688-1159. For more information about Dow and Sea Center Texas, call Ria Griffin at 979-238-3792. For information about TNRCC and their participation in the Gulf of Mexico Program, call Andy Saenz at 512-239-5018.