Clean Marina Program Earns Gulf Guardian Award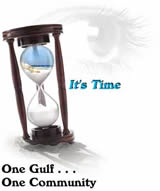 FOR IMMEDIATE RELEASE
Sept. 25, 2001
STENNIS SPACE CENTER, Miss. - The Florida Department of Environmental Protection's Law Enforcement Division in Tallahassee, Fla., was one of several winners from around the Gulf of a 2001 Gulf Guardian Award. The Department was recognized at the kick off to the 11th Southern States Environmental Conference being held in Biloxi, Miss., through Thursday at the Coast Coliseum and Convention Center, for a project called the Clean Marina Program.
Two years ago the Gulf of Mexico Program developed the Gulf Guardian awards as a method of recognizing and honoring the businesses, community groups, individuals, and agencies that are taking positive steps to keep the Gulf healthy, beautiful and productive. The Gulf of Mexico Program began in 1988 to protect, restore, and maintain the health and productivity of the Gulf of Mexico ecosystem in economically sustainable ways. Award entries came from the five states bordering the Gulf of Mexico-Texas, Louisiana, Mississippi, Alabama, and Florida.
EPA Administrator Christie Whitman said, "There are a wonderful variety of projects- from seagrass and wetland nursery programs to marine life education and the prevention of nonindigenous species - that are created by concerned individuals who sincerely want to preserve the beauty and vitality of the Gulf of Mexico. Their projects go a long way toward preserving the value of this natural treasure and we appreciate their hard work. The accomplishments of these award winners will help build on the successful initiatives already underway in the Gulf of Mexico Program."
Gulf of Mexico Program Office Director Jim Giattina said, "The Gulf Guardian Award exemplifies what the Gulf of Mexico Program is all about -- innovative solutions that come about when we pool resources and look for creative ways to positively impact our quality of life and economic well-being. Today we honor the people and groups who develop and then implement those solutions."
The Clean Marina Program is a statewide, incentive-based, criteria-driven, voluntary program for marinas and boatyards in Florida. Clean Marina Facilities meet program criteria that emphasize pollution prevention as well as activities important to boaters. The program was initiated to encourage existing marinas and boatyards to adopt pollution prevention practices rather than using current regulatory disincentive approaches as a basis for environmental protection. The program began development in May 1996 by the Department and its industry partners. Implementation began October 1999 and continues with 13 marinas designated and another 80 facilities working toward their designation.
Also receiving awards today were Tampa Bay Watch's High School Wetland Nursery Program, St. Petersburg, Fla.; The Pier Aquarium, Inc., St. Petersburg, Fla., for Tampa Bay Walks the Talk; the Louisiana Office of Conservation, Baton Rouge, La., for the Underwater Obstruction Removal Program; the Mississippi Soil & Conservation Commission, Jackson, Miss., for an Animal Waste Irrigation Demonstration Project; Marilyn Barrett-O'Leary, Baton Rouge, La., with the Louisiana Sea Grant Program for her work with nonindigenous species; Mark Shirley, Abbeville, La., for March Maneuvers; the Baldwin County Soil & Water Conservation District, Bay Minette, Ala., for the Weeks Bay Watershed Pollution Prevention Project; The Nature Conservancy, Mississippi Chapter, Ocean Springs, Miss., for the Old Fort Bayou Mitigation Bank; Ruskin Community Development Foundation, Ruskin, Fla., for Camp Bayou Outdoor Learning Center; the Adopt-A-Wetland Program, Corpus Christi, Texas, for Wetland Education in Action; and the Choctawhatchee, Pea, and Yellow Rivers Watershed Management Authority, Troy, Ala., for the Unpaved Roads Erosion and Sediment Control Project.
Other winners from Texas awarded in an April 2001 ceremony were the Shell Marine Foundation, Houston Texas, and the National Fish and Wildlife Foundation, Washington, D.C., for the Shell Marine Habitat Program; REEF - Reef Environmental Education Foundation, Key Largo, Fla., for the Flower Garden Banks National Marine Sanctuary Fish Survey Project in Galveston, Texas; Will Myers from Austin, Texas, for his work in protecting seagrasses; USDA's Natural Resources Conservation Service, Cuero, Texas, for the Texas Prairie Wetlands Project; Dow Chemical Company, Freeport, Texas, for Sea Center Texas; Rivers, Lakes, Bays 'N Bayous Trash Bash 2000, Galveston, Texas;
"We began the Gulf Guardian Awards to highlight and honor some of the partnerships and other projects that are helping the environment and water quality in the Gulf States, and in the Gulf of Mexico. We are all one Gulf community and have only one Gulf of Mexico. Projects like this are helping to protect our local coastal waters, which significantly contributes to the Gulf's beauty and value," said Giattina.
The Gulf of Mexico Program is underwritten by the U.S. Environmental Protection Agency and is a non-regulatory, inclusive consortium of state and federal government agencies and representatives of the business and agricultural community, fishing industry, scientists, environmentalists, and community leaders from all five Gulf States. The Gulf Program seeks to improve the environmental health of the Gulf in concert with economic development.
Editor's Note: For more information about the Gulf Guardian Awards and the Gulf of Mexico Program, call Terry Hines Smith at 228-688-1159. For more information about the Clean Marina Program, call Jan De Laney at 850-488-5757, ext. 178.