Synopsis of 1st Place Gulf Guardian Awards
(To learn more, please request a copy of the full submission - these short summaries do not provide a complete picture of the project)

FIRST PLACE GOVERNMENT
| | |
| --- | --- |
| Project #: | HAB 2000-18 |
| Company: | Port of Houston Authority, Houston TX |
| Project Name: | Port of Houston Authority Demonstration Marsh |
| Category: | Government |
| Project Type: | Habitat |

The Port of Houston Authority (PHA) and the U. S. Army Corps of Engineers (USACE), as local sponsors, received congressional authorization in 1996 to widen and deepen the Houston Ship Channel (HSC) from its current configuration of 40 feet by 400 feet to 45 feet by 530 feet. The Galveston Bay portion of this project will generate approximately 88.3 million cubic yards of dredged material over the next 50 years. Previously, dredged material in this portion of the Bay, was treated as a waste and disposed of in semi-confined disposal areas or in the open Bay. This project will recycle the dredged material by creating 4,250 acres of intertidal marsh and a 6-acre bird island, replacing critical habitat in Galveston Bay.
In summary, the HSC project changes the conventional view that dredged material must always be treated as a waste. This project treats dredged material as a resource by recycling one-third of the quantity of dredged materials generated during the 50-year life of the project. The Beneficial Use Plan for the HSC Project, written and approved by the BUG, will recycle dredge materials to create habitat lost to Galveston Bay through subsidence and erosion by creating 4,250 acres of intertidal marsh, a 12-acre bird island, and boater destinations. This project commits the PHA and the USACE to treat dredged material as a resource and end the deposition of it as a waste in the Bay section of the HSC over the next 50 years.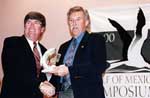 Bruce Moulton presents a first place Gulf Guardian Award in the government category to Wade Battles of the Port of Houston Authority for their Demonstration Marsh project.