Hydrogen Fueling Station
Note: EPA no longer updates this information, but it may be useful as a reference or resource.
---
EPA provided fueling to the Fuel Cell Delivery Vehicle Testing Program and others at the hydrogen fueling station installed at EPA's National Vehicle and Fuel Emissions Laboratory in Ann Arbor, Michigan. The Lab was the first U.S. federal facility to introduce hydrogen fueling capability.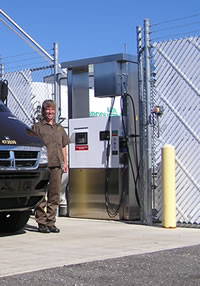 During the duration of the Partnership (May 2003 through November 2006), EPA leased the hydrogen fueling equipment from Air Products and Chemicals, which installed and maintained the facility. This station was the primary source of fueling for the UPS fuel cell Sprinter vehicle in its daily package delivery operation. EPA also made the station available to other vehicle manufacturers who were testing or operating fuel cell and hydrogen vehicles in the vicinity.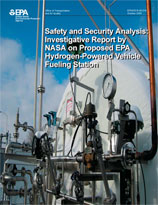 In designing and installing the facility, EPA consulted with the National Aeronautics and Space Administration (NASA) for specific safety and security recommendations. NASA's study led to a number of design elements to minimize the effects of any accidental or intentional releases of hydrogen fuel.
The station installed for the Partnership program was a liquid hydrogen based system. The facility stored up to 1500 gallons of liquid hydrogen, which would be vaporized and compressed to about 6000 pounds per square inch (about 400 bar). The station stored up to about 40 kilograms of high-pressure hydrogen. The dispensing system delivered compressed hydrogen to vehicles at 5000 pounds per square inch (about 350 bar).
Operating the station clearly demonstrated that hydrogen infrastructure is still in the development stage, and that technological improvements will continue to be necessary before widespread commercialization of hydrogen fueling becomes a reality. Although the station maintained a high level of availability, failures in each of the systems of the station were more frequent than expected. Fortunately, only a few of these failures resulted in the need to briefly suspend fueling services. All failures were carefully evaluated by EPA and Air Products, and we took necessary corrective actions in each case. In several cases, hardware and system improvements made at the EPA station have been adopted at other fueling stations around the country, including dispenser hose leak guards, enhanced software controls, improved alarms, and improved preventive maintenance procedures.
At the conclusion of the Partnership, EPA's contractor removed the hydrogen fueling equipment for use at other locations.