Understanding Financing Programs
Elements of a Financing Program
A clean energy finance program has five major elements. A Property Assessed Clean Energy (PACE) program is used to illustrate these elements.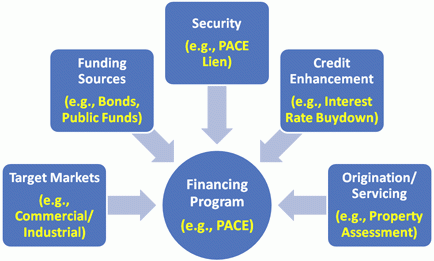 For more information on each element, scroll over the blue boxes for a definition or read EPA's Clean Energy Financing Program Decision Guide.
Keys to Success
Successful state and local government clean energy financing programs often do the following:
Learn from Successful Programs
Provide Low Monthly Payments
Establish Broad Eligibility
Link Financing to Effective Clean Energy Programs
Learn from Successful Programs
In recent years, many states and communities have gained new experience with the design, implementation, and evaluation of clean energy financing programs. Although effective models are still emerging, there are numerous opportunities to learn from successful program examples around the country.
Resources like EPA ENERGY STAR's live Web training conferences and the U.S. Department of Energy's (DOE's) detailed financing resources at the DOE Solution Center can help jurisdictions stay current.
Provide Low Monthly Payments
A key goal of financing is to reduce monthly payments so energy savings can cover all or most of the payment. One way to lower monthly payments is to lengthen the loan term. According to U.S. Department of Energy, it is not unusual to find 10-year terms for unsecured energy loans (those made without borrower collateral) and 20-year terms for secured loans.
The other major variable in payment size is the interest rate. Providing a low interest rate reduces the loan payment, and can help encourage skeptical property owners to participate.
States and municipalities have found that their financial partners can frequently provide loan terms and interest rates that result in lower monthly payments for customers.
Establish Broad Eligibility
The aim of many government-sponsored programs is to help borrowers with other than excellent credit and equity. This is necessary because loan losses may be higher when lower credit scores are accepted.
States and municipalities have found they can expand eligibility by allowing a higher debt-to-income (DTI) ratio. The caps that private lenders put on DTI for consumers seldom takes into account how energy improvements will reduce the borrower's expenses. Government-sponsored programs can reflect energy savings either in general, or on a case-by-case basis, when establishing DTI criteria.
Similarly, when calculating the loan-to-value (LTV) ratio, state or local governments have found that financing programs can allow somewhat higher LTVs by reflecting the benefit of energy improvements on a property's value.
Link Financing to Effective Clean Energy Programs
Clean energy financing does not create demand for energy improvements — rather, it helps overcome a major obstacle to realizing whatever demand exists. To succeed, government financing programs should be linked to a comprehensive clean energy program committed to building demand and to overcoming other barriers to greater market penetration. Two common strategies include:
Integrate Financing with Marketing — Effective marketing offers a single entry point for customers and reduces confusion. Information about customer financing should be the focus of marketing efforts, and the entire financing process should make it easy for the homeowner to act while their interest and attention is at its peak.
Link to an Organized Energy Audit and Installation Process — The clean energy audit and installation process can be confusing and burdensome for customers. To overcome these obstacles, states and municipalities should link their financing programs to a well-designed audit and installation process. The role of the financing program is to integrate smoothly into the process, particularly at the loan application and payment stages.