The Student Conservation Corps: Building a New Energy Foundation


The Student Conservation Corps: Building a New Energy Foundation
West Chester, Pennsylvania
---
Project Replication Facts
Project Duration: 2 years
Project Cost: Approximately $300k
Project Staff Required: 1 FTE over 2 years
Population Served: 83,000
Community Type: Urban, suburban, rural
Median Household Income: $64,777 - $100,732
Partners: Practical Energy Solutions, Krapf Bus Company, Killdare's Restaurant and Bar, Unruh Turner Burke and Frees Law Firm, Kaly Boutique, and Keystone FCU
Tools & Resources:
The West Chester Area School District used an EPA Climate Showcase Communities (CSC) grant to expand an existing energy conservation effort in schools. Grant funding allowed them to form the Student Conservation Corps which effectively helped the local business community increase energy efficiency.
To reduce energy consumption and greenhouse gas (GHG) emissions, the District implemented an energy conservation program in all 16 District schools. They also formed a partnership between students and businesses to encourage energy conservation throughout the business community. The program consisted of three components:
Energy conservation education in schools;
Energy efficiency projects in school buildings; and
Establishment of the Student Conservation Corps, which conducted energy conservation outreach to the West Chester Borough business community.
The program achieved a 17% reduction in electrical consumption and CO2 emissions in schools across the District. Furthermore, by implementing energy saving measures in schools and modeling them to local businesses, the program created ongoing potential to reduce GHG emissions beyond the grant project period.
On this page:
Expanding Conservation Efforts in Schools
Energy Conservation Education
Prior to receiving the CSC grant, the District implemented an energy conservation education program supported by District funds. The grant provided the opportunity to expand this program to all 16 District schools. To enable schools to track their impact, the program shared monthly consumption data with teachers who discussed this information in science classes. Middle-school students were engaged through projects focusing on alternative energy.
The Henderson High School Environmental Club promoted energy conservation with its new Power Down Friday initiative. Through this initiative, the club asked staff and students to minimize use of unnecessary lighting and to turn off electronics for the weekend. Power Down Friday received national attention and was awarded a Certificate of Special Congressional Recognition by the U.S. House of Representatives in March 2010.
District-Wide Operational Efficiency
In order to improve energy efficiency, the program partnered with Practical Energy Solutions, a local energy audit company, to audit the schools. They placed data gathering devices in each school to document energy performance. The data were analyzed to reveal opportunities to improve efficiency in building operations. As a result, the HVAC system's software was enhanced, occupancy sensors on lighting fixtures were installed, and fixtures were upgraded to efficient models. The program also installed large capacitors at Henderson High School, Hillsdale Elementary School, and Starkweather Elementary School. The capacitors allowed pumps and motors to run more efficiently, reducing energy consumption and increasing the expected equipment life.
Forming the Student Conservation Corps
To educate the public on workplace energy conservation strategies, the District formed the Student Conservation Corps. Building on the success of Power Down Friday, six seniors from Henderson High School were recruited as pioneer members of the Corps. After training from Practical Energy Solutions consultants, the students conducted an energy audit of two Krapf Bus Company buildings. They identified energy-saving opportunities that would help the company reduce energy costs and GHG emissions. The students wrote a report and presented findings to the president of the Krapf Bus Company, who was impressed with the students' work.
Over the two years of the CSC grant, more than 40 high school students joined the Corps and conducted energy audits of five local businesses. Some of these businesses have integrated the recommendations into their practices. For example, Unruh Turner Burke and Frees upgraded to a more efficient heating system, an investment with a payback time of four years. The Corps received multiple awards, including the Green Power Award from Citizens for Pennsylvania's Future and the Key to the City, presented by Mayor Carolyn Comitta.
"There are few moments in our lives that we can say are firsts. Today I am confident that today I saw a first. I saw a group of highly motivated, intelligent and articulate students guided and educated by caring, connected and dedicated adults teach the business community how to be better stewards of the environment." - Kevin Campbell, Program Director
Engaging the Community
The District engaged students, staff, businesses, and the broader community in reducing energy consumption. Peer-to-peer communication was most effective in raising awareness among students. For example, in "Power Down Friday", students took notice when lights were turned off and asked questions, which allowed members of the Environmental Club to share knowledge on energy conservation and encourage others to act. The original Corps members also taught new students how to analyze and report data. Corps members who graduated were invited back to share experiences to motivate current students and supervisors.
"The Student Conservation Corps gives students experience in the job field, and provides a larger sense of comfort when interacting with business people and leaders in the community. Student Conservation Corps is a pioneer project that has the potential to become a national success." - Emily Cornuet, Student Conservation Corps Member
In addition to presenting results to the five audited businesses, the Corps showcased their work to other businesses, school districts, facilities managers, and legislators. Members helped organize conferences where they presented findings. Some events were aired on local news, showcasing students' efforts for the community. Students made a YouTube video to highlight Power Down Friday. Many adults were impressed and inspired by the students' professionalism. As a result, the Corps motivated many individuals and organizations to work on reducing energy consumption. Power Down Friday has been replicated by other schools, including Acton-Boxborough Regional High School (MA) and Haverford High School (PA).
Tracking Results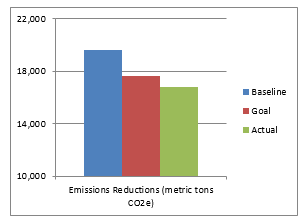 The District quantified results of the energy education component, as well as school energy efficiency projects. The District used meter readings from utility electric bills to track consumption since 2008 (base year). Results showed that conservation activities during the CSC grant (2010-2011) reduced CO2 emissions by 2,830 metric tons per year. This represented an annual average reduction of 17%, exceeding the 10% goal.
More importantly, the qualitative results of the program have been far-reaching. It has provided learning opportunities for Corps participants; provided energy audits for five businesses; and emphasized the importance of reducing energy consumption throughout the broader community.
Sustaining the Program
The District has provided annual funding of $300,000 to continue the education and consumption tracking program. A portion of the funds are cost savings from earlier conservation efforts throughout the District. The District expects that projects will become self-funding over time. Additionally, the work of the Corps was sustained during the 2012 fiscal year by a grant from the State of Pennsylvania Department of Environment Protection.
Challenges and Lessons Learned
Attain strong leadership and support. The engagement and commitment of teachers was vital to the program's success. In particular, the District had two teachers at Henderson High School who championed the cause and got the students immersed in the Corps.
"I was glad to have had the opportunity to bring awareness to a global cause that so many others have already taken part in. It's an incredible feeling knowing that your actions could have an impact that can change the world, if only one small step at a time."
- Francis Cunningham, Student Conservation Corps Member
Communication is key. Having a clear understanding of roles and responsibilities helps programs run smoothly. There were several instances in program implementation where communication about responsibilities could have improved execution.
Behavior change is impactful. The District found that initiatives focusing on changing energy use behavior yielded results. Often, more energy was saved through turning off computers and lights than by making appliances run more efficiently. The behavior has been sustained beyond the grant period.
Keep it simple. By focusing on reducing GHGs through behavior change and operation analysis, the program was able to exceed its goals.
Learn from experts. Engaging professionals was critical to the success of this program. Practical Energy Solutions played a key role in driving the program forward.
Engage partners. The District found it useful to look for partners who can use the program to market or sell their products and services, such as energy consulting vendors, utility suppliers, and manufacturers. These entities will have an incentive to support the program.
Replicating the Program
Staff Needs: Approximately one full-time equivalent staff member was required over a two-year period.
Cost: The program was implemented with a total of $298,492 in funding from the CSC grant and matching funds from the District.
Available Resources: Emily Cornuet, an original Corps member, wrote a book Exit documenting their work. Sample reports and presentations generated by the students are available for reference.
Learn from Similar Climate Showcase Communities Programs:
Project Impact
2,830 MtCO2e GHG emissions reduced annually
3,800 MWh saved in electricity consumption annually
$281,000 saved on electricity annually
40 students received learning opportunities through the Student Conservation Corps