The Green Cincinnati Plan
Cincinnati, Ohio
Federal Funding: $500,000
Project Timeline: January 2010 – June 2013
The City of Cincinnati approved the Green Cincinnati Plan (the Plan) in June 2008. The Plan aimed to reduce Cincinnati's GHG emissions by 2% each year for three years of the grant period, for a total of a 6% reduction. The CEA's energy audits expected to leverage $470,000 of investment in energy-efficiency, saving 1,000,000 kilowatt-hours (kWh) of electricity and 25,000 therms of natural gas. With 62 of the Plan's 82 projects now underway, the City created an outreach strategy to market the Plan. The project is also integrating climate change awareness in Cincinnati public schools, and hosting an annual climate summit. In addition, the Cincinnati Energy Alliance (CEA) is conducting energy audits for nonprofit organizations.
The City continues to promote the Plan through media, partnerships, and community events. The City partnered with Green Umbrella, the backbone sustainability organization in Greater Cincinnati, to develop two outreach campaigns. The "What's Your Green Umbrella?" campaign ended in mid-2013 and was awarded a Public Relations Society of America (PRSA) Cincinnati Chapter Blacksmith Award. The organization launched another initiative Exit promoting a 10% shift to local foods. Partnerships with other organizations led to the expansion of a tree-planting campaign, planting over 90 trees to date, and an event to promote transit ridership among City employees. A Zipcar service has also been established as part of the Green Cincinnati plan implementation, with six Zipcars now located in Cincinnati. The City worked with environmental educators to distribute Climate Protection Toolkits in local schools. Six schools report they have recycled 28 tons, and composted 142 tons, of material. The Greater Cincinnati Energy Alliance completed 13 energy audits of non-profit buildings. Lastly, the City continued to shepherd Green Cincinnati Plan Actions: Car Sharing, City Fleet Fuel Efficiency, City Employee Transit Ridership, and Electricity and Natural Gas Aggregation.
To expand the impacts of the Plan, the City:
worked with a local marketing firm to develop and deploy the Plan's marketing plan, including a concise brand, ads, website, presentations, and promotions,
created and distributed toolkits for local schools on climate change and climate protection measures, and
hosted an annual event to discuss the benefits and impediments to climate change initiatives in Greater Cincinnati.
In addition, the CEA provided energy audit services. The CEA selected 20 nonprofit organizations in Cincinnati and contracted with engineering firms to provide energy audit services to the selected organizations. Following the audits, the CEA facilitated the recommended energy-efficiency improvements, and tracked the resulting benefits.
Population                                   331,000
Area                                           80 square miles
Government Type:                       City
Community Type:                        Urban
Median household income:            $33,524
| | Final Results | Projected Cumulative Results |
| --- | --- | --- |
| Annual GHG Reductions | 1,564.7 mt CO2e | 5,100 mt CO2e |
| Job Creation | 0 full-time positions | 4 full-time positions |
| Annual Electricity Savings | 0 kWh | 1,000,000 kWh |
| Annual Gas Savings | 0 therms | 25,000 therms |
| Annual Cost Savings | $30,601 | $175,000 |
| Materials Reduced or Recycled | 171 tons/year | -- |
The biggest hurdle for this project was getting people to create an account and register actions.  Many people had already fatigued of having to create a new user ID and password for every online store or initiative on the internet. Although well intentioned, non-profits ended up being the entities that had the least access to capital to make energy-efficiency improvements recommended by the GCEA audits. Better coordination between all aspects of this grant may have improved effectiveness and results. For example, the marketing and outreach campaign could have focused on schools and non-profits rather than the community at large. The City's financial controls and lack of experience in marketing make it a challenging fit for running a marketing and research campaign. With more resources, Cincinnati may have implemented focus group testing first to inform the branding work rather than after branding design occurred.
Although the marketing and outreach campaign may not have been as successful as hoped for, it led to the strengthening and expansion of the Green Umbrella organization. Through the efforts of the Green Umbrella, successful campaigns to build more bike trails, plant more trees and get more kids outside have been launched.
Due to the marketing and outreach campaign funded by this grant, the Green Umbrella organization (Cincinnati's regional sustainability alliance) was created and given a boost through the co-branding with the "What's Your Green Umbrella" Campaign. The 2,000 unique emails collected through the WYGU website were transferred to the Green Umbrella newsletter distribution list helping to continue to engage green activists past the term of the grant. Monthly newsletters during WYGU marketing campaign have now become weekly emails for Green Umbrella.
The Green Umbrella organization continues to flourish as new sustainability campaigns are developed.  Green Umbrella's use of the collective impact model has resulted in new initiatives, strengthened existing initiatives and increased fund raising.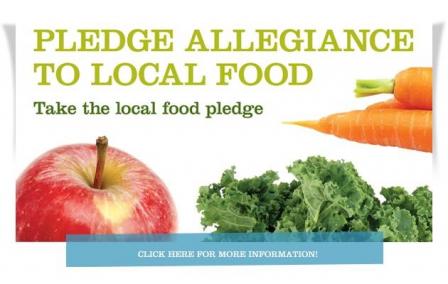 Green Umbrella launched an initiative promoting a 10% shift to local foods.