News Releases from
Region 09
U.S. EPA orders Arizona pool chemical company to stop sales of bacteria and algae control product
SAN FRANCISCO - The U.S. Environmental Protection Agency (EPA) has ordered Pool Water Products Inc. to stop selling an improperly registered pesticide, ALL CLEAR 3" Jumbo Chlorinating Tablets.
EPA's action, which applies to nationwide distribution, transport and sales of the product, follows a statewide stop-sale order issued earlier this month by the Arizona Department of Agriculture. State inspectors discovered the unregistered pesticide, which is used to disinfect pools, during an August 30 inspection of the company's Phoenix warehouse.
Under federal law, companies must provide formulation and production data to EPA in registering a pesticide product. This ensures the efficacy and integrity of products for consumers. ALL CLEAR 3" Jumbo Chlorinating Tablets is registered with EPA. The registered product is made in the United States. Its formula and data demonstrating its effectiveness have been evaluated by the EPA. However, Pool Water Products was selling and distributing an unregistered version of the product made in China that has not been evaluated by the EPA. Consumers who purchased ALL CLEAR 3" Jumbo Chlorinating Tablets manufactured in China should contact their local waste management authorities for advice on proper disposal.
Federal pesticide laws require registration of pesticide products and pesticide-production facilities, as well as proper pesticide labeling and packaging. These requirements protect public health and the environment by minimizing the risks associated with the production, use, storage and disposal of pesticides.
For more information on pesticide registration, please visit: https://www.epa.gov/pesticide-registration
Learn more about EPA's Pacific Southwest Region. Connect with us on Facebook and on Twitter.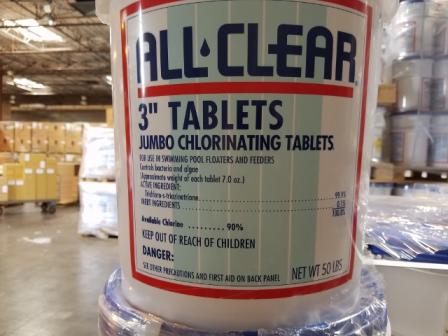 Front of label showing product name.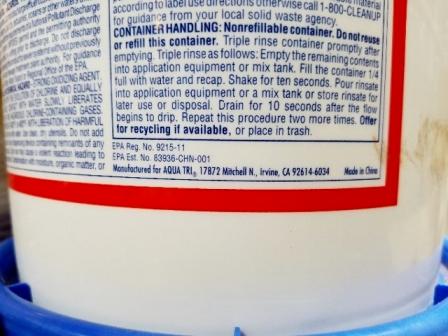 Back of label showing registration number, establishment number, and 'Made in China' statement on the far right corner.
###