News Releases from
Region 09
U.S. EPA marks one-year anniversary of Superfund Task Force Report with visit to Copper Bluff Mine
SAN FRANCISCO – U.S. Environmental Protection Agency (EPA) Regional Administrator Mike Stoker visited the Copper Bluff Mine in Humboldt County, California, this week to view first-hand the heavy metal mine waste that drains into Trinity River. On Monday, Stoker met with Hoopa Valley Tribe leaders to discuss a possible cleanup of the mine through EPA's Superfund program. The visit also marked the one-year anniversary of EPA's Superfund Task Force Report, which provided recommendations on how EPA could streamline and improve the Superfund program.   
"The health of the Trinity River and the Coho salmon fishery it supports are important to the Hoopa Valley Tribe," said EPA Pacific Southwest Regional Administrator Stoker. "This is a significant opportunity for the Superfund program to work with our tribal partners to advance our shared environmental and public health goals."
The Copper Bluff Mine is located within the Hoopa Valley Reservation adjacent to California State Highway 96. Historically used for mining copper, zinc, silver, and gold, the site was operated by private companies from about 1928 to 1964. Acid mine drainage has been flowing into the Trinity River since the mine closed, affecting the fishery on which the Hoopa Valley Tribe depends.
EPA's Superfund program investigates and cleans up hazardous waste sites when contamination threatens human health and the environment. In July 2018, EPA received concurrence from the Hoopa Valley Tribe to add the Copper Bluff Mine site to EPA's National Priorities List (NPL). Being added to the NPL would make the site eligible to receive federal funding for long-term cleanup. EPA will soon open a 60-day public comment period on the plan to add the site to the NPL.
The Superfund Task Force was commissioned in May 2017 to provide recommendations on how EPA could streamline and improve the Superfund program. On July 25, 2017, EPA issued the Superfund Task Force Report, which included recommendations in five goal areas: expediting cleanup and remediation; re-invigorating responsible party cleanup and reuse; encouraging private investment; promoting redevelopment and community revitalization; and engaging partners and stakeholders.
As outlined in the newly released, "Superfund Task Force Recommendations 2018 Update," EPA plans to complete implementation of the Superfund Task Force recommendations by September 2019. These achievements will provide certainty to communities and state and tribal partners that the nation's most hazardous sites will be cleaned up as quickly and safely as possible.
EPA's new "Superfund Task Force Recommendations 2018 Update" is available at: https://www.epa.gov/superfund/superfund-task-force-recommendations-2018-update
For information about the NPL: https://www.epa.gov/superfund/basic-npl-information
Learn more about EPA's Pacific Southwest Region. Connect with us on Facebook and on Twitter.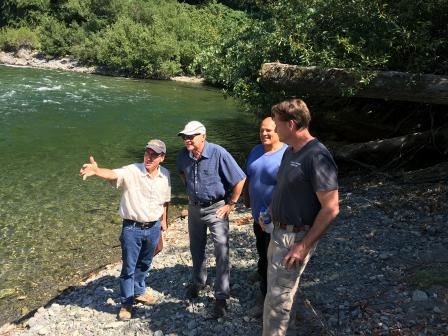 (From the left) EPA staff member John Hillenbrand and EPA Regional Administrator Mike Stoker survey the Trinity River near Copper Bluff Mine with Ken Norton, Director of the Hoopa Tribal Environmental Protection Agency, and Mark Higley, Tribal Wildlife Biologist.
###