News Releases from
Region 09
U.S. EPA Awards Patrick H. Hurd Sustainability Award to Walnut Creek, Calif., Student
SAN FRANCISCO —  Today, the U.S. Environmental Protection Agency announced Melanie Quan as the winner of its "Patrick H. Hurd Sustainability Award." Melanie, a freshman at Las Lomas High School in Walnut Creek, Calif., was selected from among 1,793 student scientists and engineers competing in the Intel International Science and Engineering Fair (Intel ISEF) in Pittsburgh, Penn., last week.
Melanie's project is titled "Microplastics, Macro Problem: A Novel Technique to Remove Microplastics from Water Using a Modified Electrostatic Filter." She creatively applied a remediation technique for particulate matter to an aquatic environment.
"I congratulate Melanie Quan on winning the Patrick H. Hurd Sustainability Award for her innovative approach to solving real-world environmental issues," said EPA Administrator Scott Pruitt. "I encourage all the participants to continue to apply their curiosity and drive to advance technologies that will improve people's lives and protect our environment."
"Microplastics can have a devastating impact on our nation's waterways," said Mike Stoker, EPA's Regional Administrator for the Pacific Southwest. "It is important to find innovative ways to remove this pollution that affects our water resources and the aquatic animals that live in it."
Melanie's research sought to filter microplastics (smaller than 5mm) using sustainable, low-cost technology in a design that could be applied to address the sources of microplastics in our waterways. By applying technology used to remove particulate matter (the electrostatic smoke precipitator), Melanie developed a novel microplastics filtration system with a variety of applications to minimize microfiber from laundry loads to commercial or industrial uses. The filter, a proof-of-concept research project, uses the concepts of ionization and attraction to efficiently remove microplastics from water sources.
"I can't believe I won the special award from the EPA! What an honor!" said Melanie Quan. "I'm so excited for the opportunity to continue to share my project and to inspire others to find solutions to microplastic pollution in our waters."
"The Society for Science & the Public congratulates Melanie Quan on winning the Patrick H. Hurd Sustainability Award from the U.S. Environmental Protection Agency at the Intel International Science and Engineering Fair," said President & CEO of the Society for Science & the Public and Publisher of Science News Maya Ajmera. "The innovative ideas presented at Intel ISEF demonstrate the power of scientific curiosity and the desire for all of our finalists to make the world a better place."
Background:
Intel ISEF, a program of the Society for Science & the Public, is the world's largest pre-college science competition. Nearly 1,800 high school student finalists represented 81 countries, regions, and territories. Student finalists advanced from several levels of local and school-sponsored, regional, and state fairs showcasing their independent research to the final Intel ISEF.
Since 2009, the EPA Patrick H. Hurd Sustainability Award has funded the student winner and a chaperone to participate in, and display the student's project at, the EPA's National Sustainable Design Expo, featuring the People, Prosperity, and the Planet (P3) Student Design Competition for Sustainability. Held each year, the National Sustainable Design Expo brings together the P3 students, nonprofit organizations, government agencies, and businesses that are working to create a sustainable future. In 2011, the Agency renamed the award in honor of Patrick H. Hurd, who managed the effort behind the first EPA Sustainability Award.
More information about EPA's participation in the Intel ISEF: https://www.epa.gov/research/intel-international-science-and-engineering-fair
More information about EPA's People, Prosperity and the Planet Student Design Competition for Sustainability: https://www.epa.gov/P3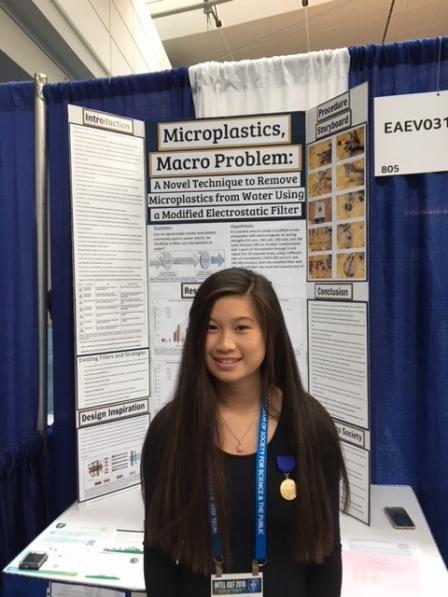 Melanie Quan presenting her project: "Microplastics, Macro Problem: A Novel Technique to Remove Microplastics from Water Using a Modified Electrostatic Filter."