News Releases from
Region 09
U.S. EPA awards $5 million grant to the Arizona Department of Environmental Quality
Funds are part of a two-year grant for more than $19 million
SAN FRANCISCO – The U.S. Environmental Protection Agency (EPA) has awarded the Arizona Department of Environmental Quality (ADEQ) a $5 million grant to help the state fund programs that protect human health and the environment throughout the state.
"EPA is committed to working with states to address today's environmental and public health challenges," said EPA Administrator Scott Pruitt. "This grant will enable Arizona to improve environmental protections and safeguard its natural resources, while being able to prioritize the most pressing issues."
"This grant affords Arizona the flexibility to tackle the state's unique environmental challenges and set priorities to accomplish their goals," said EPA Regional Administrator for the Pacific Southwest Mike Stoker.
"ADEQ very much appreciates the grant award. We would also like to extend a sincere thank you to EPA Region 9 staff for collaborating with ADEQ to produce a streamlined and flexible process," said ADEQ Director Misael Cabrera.
The grant was announced today during a meeting between Mr. Stoker and Mr. Cabrera. This funding is the first installment of an expected $19.1 million grant that will fund Arizona's environmental work through 2020. ADEQ will use the resources for solid waste management programs, air quality monitoring and drinking water improvements. As part of the funding agreement, Arizona will contribute nearly $10 million.
Unlike traditional grants for specific categories, Performance Partnership Grants allow recipients to use EPA funding with greater flexibility, prioritize environmental problems, streamline paperwork and accounting procedures to reduce administrative costs, and try cross-program initiatives and approaches.
Learn more about EPA's Pacific Southwest Region. Connect with us on Facebook and on Twitter.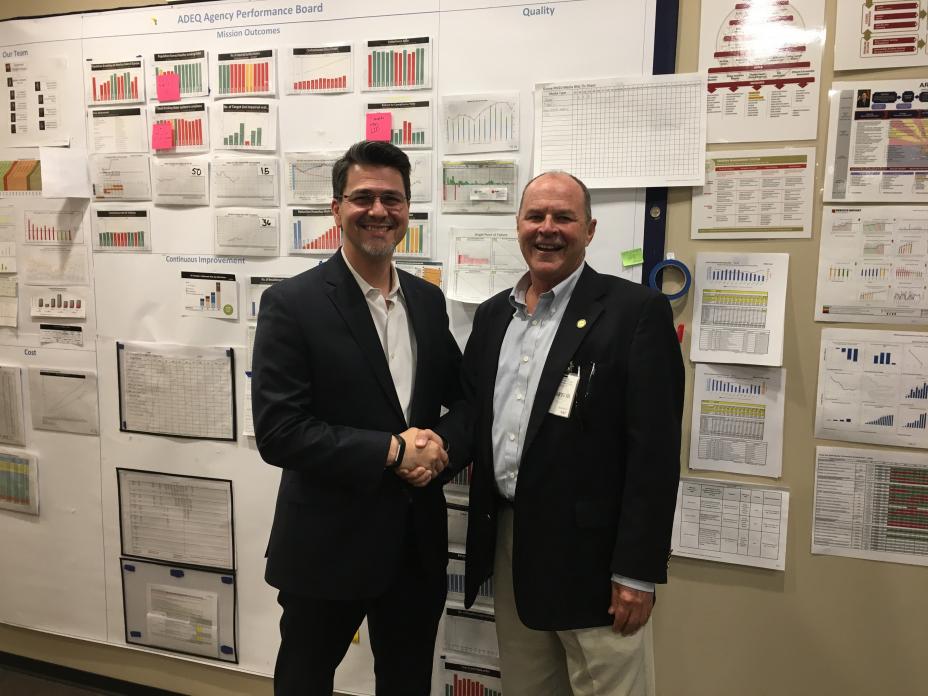 Misael Cabrera (left), Director of the Arizona Department of Environmental Quality and Mike Stoker (right), EPA Pacific Southwest (Region 9) Administrator.