News Releases from
Region 10
Unified Command Stands Down Response to BPXA Flow Station 1 Drill Site 2 Well 3 Oil and Gas Release on Alaska's North Slope
BPXA Well 3 is Plugged and Secured
UNIFIED INCIDENT COMMAND NEWS RELEASE #3 (FINAL)
Incident Name:   BPXA Flow Station 1 Drill Site 2 Well 3 Release, Prudhoe Bay, Alaska
Source: Unified Command Joint Information Center
Contact: Alaska DEC PIO 907-465-5009 / U.S. EPA PIO 206-900-3309 / BPXA PIO 907-301-8726
Unified Command Stands Down Response to BPXA Flow Station 1 Drill Site 2 Well 3 Oil and Gas Release on Alaska's North Slope
BPXA Well 3 is Plugged and Secured
Report as of 9:00 am AKDT on April 20, 2017, note: all times are Alaska Time
The Unified Command comprised of the Alaska Department of Environmental Conservation, U.S. Environmental Protection Agency, North Slope Borough, and BP Exploration Alaska (BPXA) will stand down its Unified Command as it moves into the cleanup project phase monitored by ADEC and the NSB.
On April 19, the BPXA Well 3 on Alaska's North Slope was secured by installing a mechanical plug in the well.  The gas leak had previously been stopped and the well killed on Monday, April 17, by pumping in salt water, offsetting upward pressure.
The area impacted by the initial spray of crude oil is limited to the reserve pit of the gravel pad. The impacted area appears to be less than 1.5 acres. The snow-covered tundra adjacent to the gravel pad was not impacted. No volume estimate for the crude oil spray released is available at this time. There have been no reports of impacts to wildlife and no injuries.
The cause of the well failure that led to the oil and gas discharge on Friday, April 14, is still under investigation by BPXA and the Alaska Oil and Gas Conservation Commission.
Updated situation reports and more information are available on the incident website at: http://dec.alaska.gov/spar/ppr/response/sum_fy17/170414301/170414301_index.htm.
Photo below/attached: The BPXA Well 3 well house and reserve pit with area of light crude oil spray. [ADEC, Apr. 18, 2017]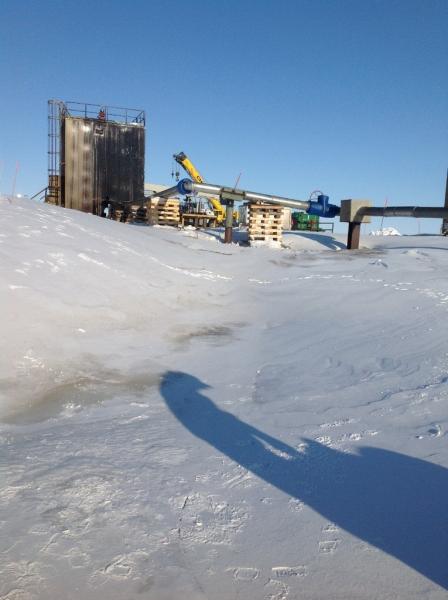 Photo shows the BPXA Well 3 well house and well pad reserve pit with area of light crude oil spray. [Photo: ADEC, April 18, 2017]
Previous Unified Command BPXA news releases available online at: 
https://www.epa.gov/newsreleases/unified-command-announces-bpxa-well-3-gas-and-oil-leak-stopped 
https://www.epa.gov/newsreleases/bpxa-alaska-dec-us-epa-and-north-slope-borough-form-unified-command-response-oil-and