News Releases from
Headquarters
›
Office of the Administrator (AO)
Fact-Check: Obama Administration Pushed "Worst-Case Scenario" In Climate Assessment
Some links on this page exit the site. Exit Please see EPA's third-party web site disclaimer for more information.

Acting EPA Administrator Andrew Wheeler was right when he said this morning during a Washington Post Live interview, "I wouldn't be surprised if the Obama administration told the report's authors to take a look at the worst-case scenario for this report." 

In fact, the Obama administration did just that.

The Daily Caller reported this afternoon that, "…a May 2015 memo from the Subcommittee on Global Change Research's (SGCR) environment committee, which is part of the White House National Science and Technology Council…instructs National Climate Assessment (NCA) authors to 'focus on RCP 8.5 as a high-end scenario and RCP 4.5 as a low-end scenario'." 

The Daily Caller article continues, "SGCR is made up of executive branch officials and is overseen by the White House Office of Science and Technology Policy (OSTP). [John] Holdren [an Obama political appointee] headed OSTP at the time the memo was issued." 

The full SGCR memo can be found here.
From the Daily Caller article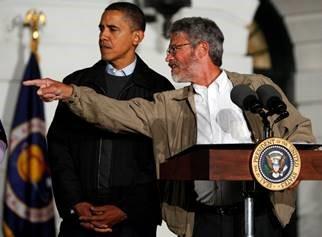 U.S. President Barack Obama (L) gets direction from White House science adviser John Holdren during an event to look at the stars with local middle school students and astronomers from across the country on the South Lawn at the White House in Washington, October 7, 2009. REUTERS/Jim Young.