News Releases from
Region 07
EPA Region 7 Plans 12 e-Manifest Workshops Across Four-State Region for Hazardous Waste Handlers, Managers and Shippers
Environmental News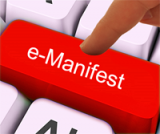 (Lenexa, Kan., May 21, 2018) - EPA Region 7 will conduct a series of e-Manifest workshops across the four-state region, beginning May 22, to raise awareness and assist the regulated industry in understanding and using this new process. These workshops are in addition to EPA's national outreach, which has included online webinars, system trials, and other events.
The national electronic manifest system ("e-Manifest") for tracking hazardous waste shipments will launch June 30. This system will modernize the nation's hazardous waste tracking process, while saving valuable time, resources and dollars for industry and states.
Wastes defined as hazardous under federal and state regulations, as well as polychlorinated biphenyls (PCBs) wastes, are required to be shipped using a hazardous waste manifest. Those who use the hazardous waste manifest will be subject to this rule.
EPA estimates that the transition from a paper to an electronic system should reduce the burden on industry and the states by 300,000 to 700,000 hours annually. This represents an estimated savings of up to $90 million each year.
Further benefits of the e-Manifest system are the ability of participants in the hazardous waste management process to track shipments with timely and accurate information. They will use a single hub for reporting all manifest data to EPA and the states. The public will gain the ability to view the manifest data within 90 days of the data entry.
Congress passed "The Hazardous Waste Electronic Manifest Establishment Act" in 2012. This law provided EPA the framework to move forward in establishing the e-Manifest, including information sharing, establishing an advisory board, and the collection of fees to maintain the data system. Fees will be paid by the facilities that receive the manifested waste. The fee schedule varies for the level of electronic automation, with a strong incentive for those who use full electronic processes to file their manifests. The e-Manifest process has been coordinated between EPA, the Department of Transportation, and states.
The EPA Region 7 contact for the e-Manifest program is Rebecca Wenner at 913-551-7644 or wenner.rebecca@epa.gov.
# # #
Learn more about the workshops in Region 7
Learn more about the national e-Manifest program
Learn more about EPA Region 7
View all Region 7 news releases
Connect with EPA Region 7 on Facebook: www.facebook.com/eparegion7
Follow us on Twitter: @EPARegion7