News Releases from
Region 02
EPA Provides New Jersey with Nearly $ 1.2 Million to Assess Contaminated Sites and Oversee Superfund Cleanups
(New York, N.Y.) The U.S. Environmental Protection Agency awarded close to $1.2 million to the New Jersey Department of Environmental Protection (NJDEP) to assess, investigate, track and oversee cleanup work at sites contaminated with hazardous substances. New Jersey has the most sites of any state on EPA's federal Superfund list, which contains some of the nation's most hazardous sites that are in need of cleanup. New Jersey has 114 active federal Superfund sites, as well as 35 additional sites that have been removed from the program. The NJDEP has approximately 14,200 known contaminated sites in its inventory of sites that are potentially in need of some cleanup work, some of which may ultimately reach the level of consideration for the EPA's federal Superfund list.
"I am committed to ensuring the Superfund program is a priority of this agency, and that cleanup is carried out in both a timely and efficient way," said EPA Administrator Scott Pruitt. "Cleaning up these sites will lead to a cleaner environment and provide tangible benefits to local communities across the country, including those affected in New Jersey."
Of the $1,165,000, EPA funding in the amount of $765,000 will allow NJDEP to screen and assess sites in NJDEP's "Immediate Environmental Concern" inventory, a subsection of its overall site inventory.  This specific inventory is a database of contaminated water supply wells and indoor air cases caused by releases of hazardous substances. The EPA funding will support NJDEP's investigations of the sources of contamination of water supplies and indoor spaces.  Sites that warrant further investigation will be placed and prioritized in EPA's national tracking and reporting database for possible follow-up action.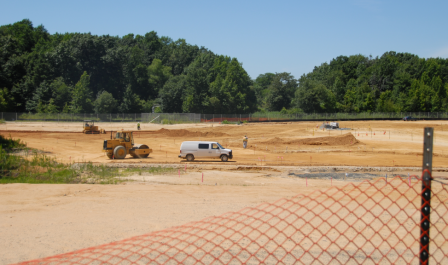 Horseshoe Road Superfund Site in Sayreville, NJ. An example of a site where the NJDEP technical staff assisted the EPA in the oversight of investigative and cleanup work. Photo courtesy of U.S. EPA.
EPA is also granting $400,000 to the NJDEP to continue its supporting role in the studies, design work and cleanup of federal Superfund sites in New Jersey. This includes assistance and oversight of investigation and cleanup work being done by the EPA or by the parties potentially responsible for the contamination.
For more information on the Superfund program, please visit https://www.epa.gov/superfund.
Follow EPA Region 2 on Twitter at www.twitter.com/eparegion2 and visit our Facebook page, www.facebook.com/eparegion2
17-050