News Releases from
Region 02
EPA Provides New Jersey with $16.7 Million to Improve Environmental Programs
(New York, N.Y.) The U.S. Environmental Protection Agency awarded the New Jersey Department of Environmental Protection (NJDEP) three grants totaling $16,697,817 million to administer environmental programs, continue water quality management planning, and protect its beaches.
"EPA is providing funds directly to New Jersey so that the state may determine how best to address its unique and critical environmental challenges," said EPA Administrator Scott Pruitt. "EPA grants to our partners like NJDEP gives states the flexibility to protect their resources and grow their economy while solving real environmental problems in local communities."
The grants announced today for New Jersey Department of Environmental Protection are:
Performance Partnership Grant – $15,887,817
This grant funds statewide programs to ensure safe drinking water, reduce exposure from radon, reduce risks from pesticides, and prevent and control hazardous waste, air pollution and water pollution. It is one of several installments of multi-year incremental Performance Partnership grants to NJDEP bringing the total funds granted in Fiscal Years 2016 and 2017 to $27,945,812. Performance Partnership grants are important tools for EPA to provide financial assistance to states and tribes. These grants allow recipients to use EPA awards with greater flexibility for priority environmental problems or program needs, streamline paperwork and accounting procedures to reduce administrative costs, and try cross-program initiatives and approaches that were difficult to fund under traditional grant approaches.
Water Quality Planning – $547,000
This grant enables NJDEP to continue its water quality management planning program. These funds will be used to accomplish comprehensive resource management to ensure "clean and plentiful water" for the residents of New Jersey and restoration of New Jersey's water resources to attain "fishable and swimmable" waters statewide. The adoption and maintenance of New Jersey's twelve area-wide water quality management plans, including the development of wastewater management plans, is a crucial component of NJDEP's water quality management efforts. NJDEP will provide 40% of this award to regional water quality management planning agencies, such as county governments, for the development and implementation of a wastewater management plans.  This statewide program is designed to support water quality management planning decisions at the state and local level across the state. 
Beach Monitoring and Notification Program Implementation Grant: $263,000
These funds are provided under the Clean Water Act, as amended by the Beaches Environmental Assessment and Coastal Health (BEACH) Act of 2000, to implement programs to monitor water quality at the beach and to notify the public when water quality problems exist. The funding will be used during the 2018 swimming season at approximately 185 ocean beaches along the New Jersey Atlantic coast in Monmouth, Ocean, Atlantic, and Cape May Counties and 18 bay and estuary beaches in Barnegat Bay, Little Egg Harbor, Great Egg Harbor, and Great Bay.  All beach data and reports can be found at: https://www.njbeaches.org/.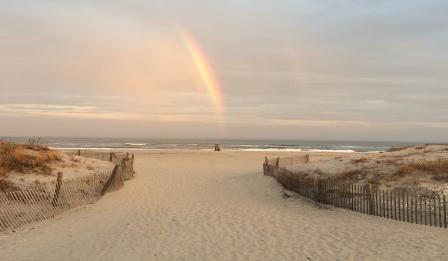 Longport Beach in Atlantic County, New Jersey. Photo courtesy of the Borough of Longport.
For more about EPA grants: https://www.epa.gov/grants
Follow EPA Region 2 on Twitter at www.twitter.com/eparegion2 and visit our Facebook page, www.facebook.com/eparegion2
17-059