News Releases from
Region 02
EPA Honors New Jersey Environmental Educators and Students
(New York, NY) The U.S. Environmental Protection Agency is pleased to announce the winners of the Presidential Innovation Award for Environmental Educators (PIAEE). EPA honored these outstanding educators, along with winners of the President's Environmental Youth Award (PEYA), at a series of events in Washington, D.C. earlier this week. From across the country, 12 educators and over 75 students were recognized for their exceptional contributions to environmental education and stewardship, including winners from New Jersey. 
"Through their work, these impressive educators and students demonstrate how community partnerships — between schools, business and government — can build and sustain environmental change," said Administrator Scott Pruitt. "Together, EPA and our partners are working to improve environmental literacy across the nation."
The Presidential Innovation Award for Environmental Educators award recognizes innovative educators who bring environmental education into their classrooms through hands-on, experiential approaches.
The PIAEE winners from New Jersey are:
Daniel Delcher, Essex County Vocational Technical School in Flanders, New Jersey
Daniel Delcher has been an environmental science and sustainable agriculture educator for eight years and currently teaches grades 9 through 12. He uses innovative, hands-on laboratory lessons and place-based learning experiences to teach his students about agricultural and environmental science topics. Students design and build their own hydroponics system using materials found at the local hardware store, which encourages experimentation and develops critical-thinking skills. Crops grown using the hydroponics systems are donated to the Culinary Arts instructors and food service personnel at the school to be used in classes and during school lunch. As his school's Green School Coordinator, Daniel has been instrumental in developing and establishing "Going Green" Initiatives that are reducing the school's environmental impact, creating a healthy and safe environment, and educating the entire school on the environment. Daniel's efforts and leadership contributed to his school being recognized as a National Department of Education Green Ribbon School in 2016.
Stephanie Bacskai, Holland Township School in Milford, New Jersey (Honorable Mention)
Stephanie Bacskai has 14 years of experience teaching K-12 students. Over the past 9 years, Stephanie has transformed the Technology Education curriculum to encompass integrated Science, Technology, Engineering, and Mathematics (STEM) and Sustainable Education. Her environmental program provides hands-on opportunities for elementary students to use growlabs to learn about seed initiation, transplanting, and plant growth, and participate in environmental laboratory exercises conducted in a passive solar geodome.  Stephanie also introduced lessons on constructing rain barrels, which her students, dubbed the "Water Whisperers,"publicized. The school now has four rain barrels that were constructed and painted by students, and a fifth rain barrel is at the local community center.  The school built a garden with edible vegetables and plants, which has evolved into an even larger space that now serves as an outdoor living laboratory for first- and second-graders.
The President's Environmental Youth Award recognizes outstanding environmental stewardship projects by K-12 youth.
The PEYA Winners from New Jersey are:
Traposquitoes: "Creating a Mosquito Trap Using By-Products of Compost and Solar Power".  Christa McAuliffe School (P.S. #28) in Jersey City, New Jersey
Understanding that mosquitoes carry diseases, three eighth-graders decided to create a new-and-improved mosquito trap as part of their school's STEM initiative. The students developed a solar-powered mosquito trap that uses compost by-products (carbon dioxide and heat) as a mosquito attractant. With this trap design, the team hopes to improve upon the conventional traps currently offered, and bring public attention to the fact that there are environmentally friendly alternatives to the traps on the market today. The Traposquitoes have already begun impacting the world beyond their community. They started a "Global Traposquito" initiative to connect with other students to reduce the global mosquito population.
Agri-Environmental Squad: "Wait…this wasn't grown with soil?" West Caldwell Tech School in West Caldwell, New Jersey (Honorable Mention)
Students at West Caldwell Tech School established a gardening and donation program to promote awareness about healthy food nutrition. Because their communities do not offer community greenhouses, gardens or quality grocery stores, the students established a program in collaboration with the Culinary Arts and Food Service program. During their class period, they grow, harvest, clean, and cut produce and donate the vegetables to culinary arts students, staff from the Food Service, and St. John's Soup Kitchen in Newark.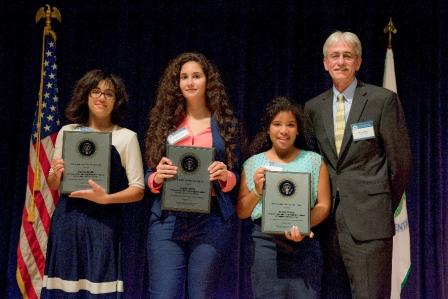 Traposquitoes Presidential Environmental Youth Award Winners from Jersey City, NJ (l-r Karen Ayoub, Layaly Saleh, and Karen Mateo) with EPA Acting Deputy Administrator Mike Flynn.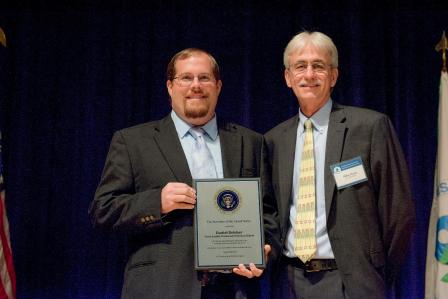 EPA Acting Deputy Administrator Mike Flynn presenting the Presidential Innovation Award for Environmental Educators Award to Daniel Delcher.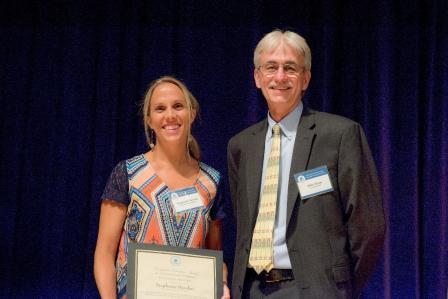 Stephanie Bacskai receiving her Presidential Innovation Award for Environmental Educators Honorable Mention Certificate from EPA Acting Deputy Administrator Mike Flynn.
For details on the 2017 PIAEE winners, visit http://www.epa.gov/education/presidential-innovation-award-environmental-educators-piaee-winners.
For details on the 2016 PEYA winners, visit http://www.epa.gov/education/presidents-environmental-youth-award-peya-winners.
For information on environmental education at EPA, visit https://www.epa.gov/education.
 
17-056