News Releases from
Headquarters
Administrator Pruitt Promotes Importance of International Engagement at First G7 Meeting
Bologna, Italy – U.S. EPA Administrator Scott Pruitt attended his first G7 Environmental Ministerial Meeting, taking part in thoughtful bilateral discussions with his G7 counterparts.

Less than two weeks after President Trump announced the United States' withdrawal from the Paris Accord, Administrator Pruitt emphasized now is the time to move forward with a discussion to find ways to positively engage with other countries in order to protect and use our natural resources.

"The United States has always been a world leader when it comes to environmental stewardship, and that was demonstrated on a global stage today," Administrator Pruitt said. "I believe engaging in international discussion is of the utmost importance to the United States when it comes to environmental issues. I want to thank the government of Italy and Minister Galletti for the tremendous hospitality and leadership over this meeting."

"The protection of the environment and public health," said Italian Minister of the Environment Gian Luca Galletti, "is a common goal for Italy and the United States. There are many themes that see our common commitment. The presence of Administrator Pruitt at the G7 Environment in Bologna has been a very important element that allowed us to start constructive dialogue on all environmental issues as well as to open new channels of business cooperation between our two countries."

Administrator Pruitt returned to the United States Sunday evening in order to attend the President's first full cabinet meeting scheduled for Monday.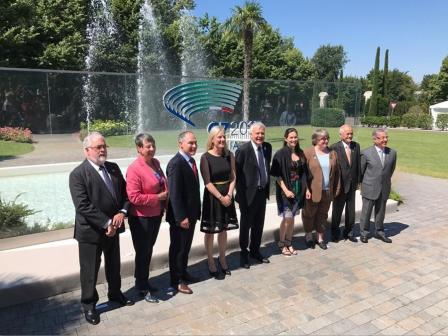 U.S. EPA Administrator Pruitt (second from the L, front row) at the G7 in Bologna, Italy
R111