William D. Ruckelshaus: The Return of "An Extraordinary Public Servant"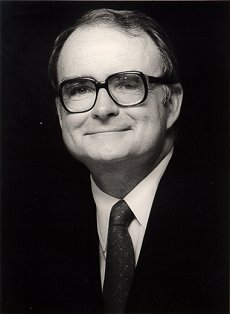 [EPA Journal - July 1983]
"EPA was fortunate to have, as its first Administrator, an extraordinary public servant who gave direction and momentum to the fledgling environmental agency." -- President Reagan on William D. Ruckelshaus, May 18, 1983
In taking office again recently as EPA Administrator, William D. Ruckelshaus assumed the first position in the federal government that he has held since his celebrated resignation as Deputy Attorney General from the Justice Department back in the Watergate days.
The irony of returning to the EPA where he served as the first Administrator has been lost on no one, least of all himself: "I am a little older. I don't see quite as well as I once did. Hopefully, I'm a little wiser, although you would have to check with my wife on that," he told an enthusiastic audience of agency employees prior to his confirmation. "At any rate, here we go again."
Some things don't change. In his first interview, granted to the Washington Post, Ruckelshaus is quoted as saying, "One of the things that strikes me in coming back here again [to EPA] is how hard these decisions are, particularly the ones that get up here, and how difficult it is to decide how [to] strike this balance."
Other things do change, however, particularly when compared to the recent past. Morale among employees, for instance, has steadily improved since the new Administrator's arrival. His appointment calendars are made public on a weekly basis. The agency again is endorsing full public participation in decision making. New appointees are slowly moving in, and some old ones are going.
One point that Ruckelshaus has made very clear is that he received the backing of President Reagan upon resuming the job of running the EPA. "The President has convinced me that he wants no abandonment of the goals of protection of the public health and of our natural environment," he has said.
Prior to returning to EPA, Ruckelshaus worked for Weyerhaeuser, a forest products company, in Tacoma, Washington, as senior vice-president for law and corporate affairs, responsible for policy setting and coordination of the company's key external relationships and its legal service functions.
Commenting on his return to EPA, Ruckelshaus said, "My job as EPA Administrator is the same today as it was when I held that job before and that is to represent the public interest to the best of my ability."
Ruckelshaus has been careful to excuse himself from any area of EPA that might create a conflict of interest with his prior activities. "Under the laws that heave been passed in recent years," he said, "it's necessary for me to fill out more forms than EPA has paper. There are conflict of interest forms, financial forms, FBI checks. I ought to be able to pass that. When I left the FBI, I took my file with me," he joked. (Ruckelshaus served as acting Director of the FBI when he first moved to the Department of Justice in 1973.)
President Reagan described Ruckelshaus as a man who "EPA was fortunate to have as its first Administrator, an extraordinary public servant who gave direction and momentum to the fledgling environmental agency. His assignment, not an easy one, was performed with dedication, integrity and a balanced understanding of the Nation's needs. He soon became known--and with good reason--as 'Mr. Clean.'"
Ruckelshaus was born in Indianapolis in 1932 and was graduated cum laude from Princeton University in 1957. His daughter Cathy--one of five children in his family--recently graduated from his alma mater. The new Administrator obtained his law degree from Harvard in 1960. Thereafter he practiced law and stayed active in politics back in Indiana until national politics beckoned.
The return of Ruckelshaus's wife Jill has generated almost as much ink in the Washington newspapers as his return. She is also a lawyer and remains politically active, serving on the U.S. Civil Rights Commission. She enjoys a reputation for being independent minded. When asked on a network morning news show about any possible differences of opinion between the President and Jill, the EPA Administrator diplomatically responded that he wasn't going to be baited into that trap.
Old-time EPA hands have noted that Ruckelshaus looks trimmer and healthier than ever before. In fact, he has become an avid jogger. He also "gets away from it all" through bass fishing.
Surely a part of the reason Ruckelshaus elected to leave Seattle--a city to which he and Jill had become attached--was a genuine affection for EPA and its employees and a sense of pride in the agency's accomplishments. As he told the New York Times in an early interview, "There is no question that the air and water are appreciably cleaner than they were in 1970, and orders of magnitude cleaner than they would have been if there had been no laws."
Yet, he consistently has voiced a need for constructive regulatory reform: "Protecting human lives and our environment cannot be done in a vacuum," he's said. "Protection must be harmonized with other social goals, with goals involving our economy and the production of adequate energy...The issue today isn't whether we are going to clean up, but how."
In his speech to the employees, the new Administrator returned the warmth that had been bestowed by his overwhelming reception and gave yet another clue as to why he had given up so much to come back: "My real reason for asking you here today is to start to convince the American people what I know in my heart--there is no finer group of public servants in this country than the employees of the EPA. It was true at the beginning, and it's true now."