View EPA Data Using Google Earth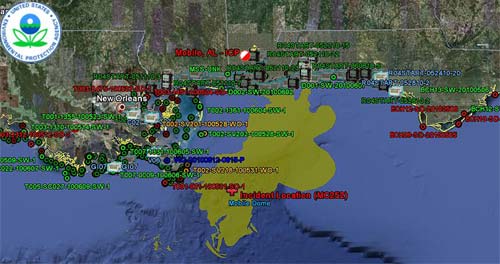 View EPA air, surface water, sediment and waste sampling locations in Google Earth, which are linked to explanations and information throughout this site.
See EPA air monitoring locations and results for total Volatile Organic Compounds (VOCs) and Particulate Matter (PM).
Link to EPA data, aerial photography and other information collected by our air sampling plane, the ASPECT.
Follow EPA's Trace Atmospheric Gas Analyzer (TAGA) bus as it samples the air for toxics
Get National Geospatial – Intelligence Agency's (NGA) map of boom locations and daily tracking updates of the oil spill.
See aerial photography and satellite images from NASA, NOAA and the European Space Agency's satellite ENVISAT.
View photos of activities from environmental sampling to cleaning up the beaches
If you don't have Google Earth installed on your computer, get the free download here.