Reestablishing the Freshwater Unionid Population of Metzger Marsh, Lake Erie
One of the most devastating ecological problems resulting from the recent invasion of North America by zebra mussels (Dreissena polymorpha) has been the virtual elimination of native clams or unionids from infested waters. Zebra mussels readily colonize clam shells, disrupting feeding, movement, and reproduction. Clams generally die within 1-2 years after infestation. This die-off has been well-documented in the Great Lakes (Schloesser and Nalepa, 1994; Schloesser et al. 1996), with near total mortality reported throughout most of western Lake Erie. However, in 1996, we discovered a large population of native clams in a western Lake Erie wetland, Metzger Marsh, that showed little sign of infestation despite zebra mussel colonization of the site since about 1990.
Metzger Marsh is a lake-connected wetland located 32 km east of Toledo, Ohio. Prior to 1940, portions of this 367-ha site were diked, actively farmed, and then abandoned and allowed to revert back to wetlands (Figure 1). The wetland embayment was protected from storm activity by a barrier beach, which gradually eroded as sediment supply decreased due to progressive armoring of the shoreline of the lake. By 1990, much of the original wetland had also eroded. In 1994, a consortium of federal, state, and private organizations joined forces to restore the wetland and provide improved habitat for fish and wildlife. A dike was constructed across the opening of the embayment to mimic the protective function of the lost barrier beach, with plans to dewater the wetland to promote seed germination and growth of emergent plants. Following two years of drawdown, a water-control structure was placed in the dike to mimic the natural barrier opening and was opened to restore hydrologic connection with the lake.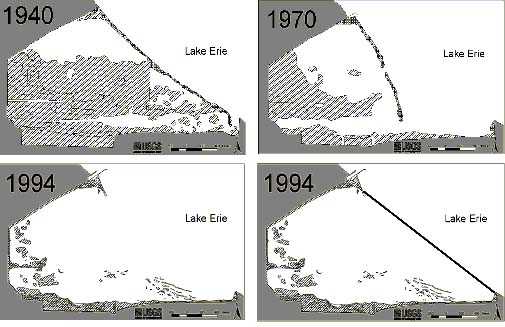 Figure 1. Schematic of aerial photographs of Metzger Marsh, western Lake Erie, showing the destruction of the barrier beach and subsequent erosion of wetland vegetation between 1940 and 1994. Hatched areas represent patches of wetland vegetation. The bottom drawing shows the location of the artificial barrier beach built at the site.
Surveys of the biota before construction of the dike identified a large population of zebra mussels in the lakeward half of the site (Figure 2). Two types of zebra mussel colonization occurred: 1) extensive layers, several centimeters thick, totally covering the substrate and 2) individual clusters of mussels limited to hard structures such as logs, rocks, or vegetation. The area totally covered by zebra mussels extended about 150 m by 300 m. Five live unionids, representing two species, Quadrula quadrula and Leptodea fragilis, were also found in the surveys. Since so few live unionids were collected and the entire area was colonized by zebra mussels, scientists involved in the project hypothesized, based on best available information (Schloesser & Nalepa 1994) that only a small remnant clam population was present. However, the dewatering process later exposed a clam population far more extensive than expected.
Figure 2. Distribution of zebra mussels and thick-shelled unionids collected from Metzger Marsh, western Lake Erie, 1996. "Dense zebra mussels" refers to areas where extensive colony mats covered the substrates and "scattered zebra mussels" to areas where minimal substrate colonization occurred by all other objects (vegetation, rocks, logs, etc.) were colonized with the exception of the unionids. "A" marks the site where the oldest and largest individuals of all species were collected.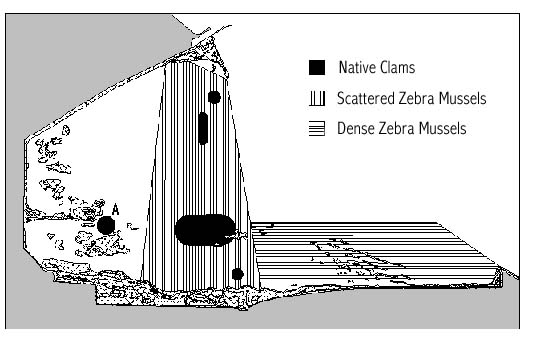 About 7000 live unionids representing 20 species, including three State of Ohio threatened species, and multiple year classes were found during the dewatering (Table 1). Once this population was discovered, a conglomerate of state and federal officials met to decide what to do with these animals. To become a functioning wetland, Metzger Marsh had to be dewatered first, a process which would likely result in the destruction of the entire population. On the other hand, the invasion of zebra mussels meant that release of the unionids into Lake Erie proper would also result in their destruction. This population was considered critical to the future restoration of unionids in the western basin of Lake Erie, since it is one of the few Lake Erie genetic stocks to have survived the negative effects of zebra mussels. The Great Lakes Science Center was charged with removing, boarding, and "doing something appropriate" with these animals until they could be returned to Metzger Marsh sometime in the future. In partnership with the EPA, our primary goal was to salvage as much of the unionid fauna as possible, and to use this fauna to ultimately rebuild the population in Metzger Marsh.