Modeling Subsurface Petroleum Hydrocarbon Transport
---
Plumes from field sites show more realistic variability than these idealized schematics. But many times, plumes drawn from field data are smoothed and appear as regular-looking objects. Data from monitoring wells are contoured either by "hand" or with software. As such, contoured data represent someone's interpretation of the data. When seeing these interpretations of field data it is always important to understand how well the underlying data support the interpretation made by contouring the data.
This will be a question to consider for this site: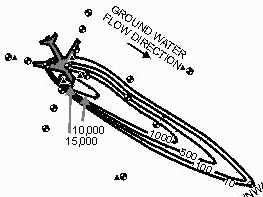 Recall that this release occurred when a tanker plane crashed upon landing at an Air Force base. The Jet Fuel that was on board caught on fire and some seeped into the ground.
---