Atmospheric Modeling & Analysis Research
Atmosphere-Ecosystem Linkage Studies
Research on air-water model linkage is focused on how best to bring together the atmospheric process-based, first principles models with water quality calibrated models that have process-based components, but rely on calibration. The goal is a consistent multi-media model connection.
Linking Air Quality and Acidification Models
Community Multi-Scale Air Quality Model (CMAQ) deposition data sets are being developed for terrestrial and aquatic critical loads assessments, particularly related to acidification of lakes and streams. Acidification stems mainly from the atmospheric deposition of sulfur and nitrogen to watersheds. Acidification critical loads models, such as the Steady State Model or the MAGIC model, are based on a mass balance approach. It is important for the critical load modeling that the precipitation, atmospheric deposition of nitrogen and sulfur inputs to the system, are in mass balance to support the calibration and application of the acidification models. It is also important that the scenarios of changes in deposition, drawn from CMAQ simulations (e.g., Sullivan et al., 2008), have the same mass balance.
Unfortunately, temporal and spatial agreement between the modeled meteorological data used to drive CMAQ deposition estimates and observed precipitation and deposition used to drive the acidification simulations can be poor. To achieve the desired mass balance for input to the acidification models requires that the meteorology and hydrology be coupled. This meteorology-hydrology coupling is the goal of the Weather Research Forecase - Variable Infiltration Capacity model (WRF-VIC) coupling research and will be required to produce an internally consistent (in mass balance) simulation of precipitation, deposition and stream flow for input to the acidification models.
Having a simulation from the coupled atmospheric system will also allow for a more consistent simulation of the acidification system in the headwater regions. This also means that the surface water flow from the hydrologic model needs to be routed using the same stream flow network as used by the acidification model. Thus, several coordination steps are required in order to link the air quality and acidification models. This linkage research will commence as soon as WRF-VIC-CMAQ data sets become available from the WRF-VIC coupling research.
Linking Air Quality and Watershed Models at Catchment Scales
Watershed models are calibrated to multiple years of observed hydrology, precipitation and water chemistry, forming a base case. Scenarios of changes in deposition to create futures cases are drawn from CMAQ simulations. Temporal and spatial agreement between the modeled meteorological data used to drive CMAQ deposition estimates and observed precipitation used to drive the water quantity and quality simulations can be poor so that the base case and the futures case are not consistent.
This raises several questions: How sensitive are watershed models to this error? Can the watershed models tolerate these errors in scenario mode? Can we create greater consistency by using the CMAQ meteorological inputs for all watershed simulations?
As an investigatory step towards these questions, the impact of Clean Air Act changes in nitrogen deposition on nitrogen exported from two watersheds in the Neuse River Basin is being explored.  Efforts to improve air quality are enforced under the Clean Air Act (1963, 1967, 1970) and the Clean Air Act Amendments (CAAA) of 1977 and 1990. A major goal of CAAA is the reduction of ecosystem damage associated with low pH (acid) deposition in the eastern US and eastern Canada. An under-researched issue in CAAA assessment is how changes in nitrogen deposition from CAAA regulation may affect nitrogen transfer and speciation on the watershed which has direct implications for ecosystem services, condition, and function.
The objective of this study is to investigate effects of CAAA regulation on the fate and transport of nitrogen for two HUC (hydrologic Community Multi-scale Air Quality (CMAQ) modeling system and the Soil and Water Assessment Tool (SWAT). CAAA regulation and emission standards are factored into the CMAQ model simulations. CMAQ nitrogen deposition estimates between years 1990 and 2020 were applied to SWAT, which was used to simulate nitrogen fate and transformation within each watershed. Two cases are investigated: one that considers CAAA regulation in CMAQ simulation (with) and a second case that does not (without). The CMAQ data used in this analysis were obtained from the 2011 USEPA study "Benefits and Costs of the Clean Air Act from 1990 to 2020."
Preliminary results show a decrease in inorganic nitrogen (NO3-) delivery from each watershed for the with CAAA case (see plots below), which is clear given a primary purpose of CAAA regulation is to reduce NOx emissions. By 2020 there is >2 fold difference in inorganic nitrogen discharge for both watersheds. Differences between the with and without cases for organic nitrogen are much smaller, which may be due to complex biogeochemical upland processing and development of organic nitrogen. The larger amount of agriculturally-based fertilizer applied to the Nahunta watershed (2.2 kg/ha/yr [Little River]; 25 kg/ha/yr [Nahunta]) likely plays a major role in the elevated organic nitrogen discharge. The Nahunta watershed is dominated by agriculture (corn, soybean) and the Little River watershed is dominated by deciduous forest. The simulated trends for both watersheds suggest CAAA has little to no influence on watershed discharge of organic nitrogen. Continued work will involve investigation of the temporal trends for plant nitrogen uptake and denitrification. Two additional focus areas will be used to identify potential lag times between changes in deposition rates and watershed nitrogen response and how relative changes in nitrogen deposition compare to changes in nitrogen transport.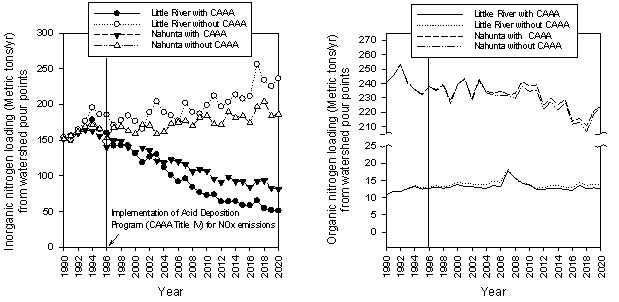 Contacts: Ellen Cooter, Robin Dennis, Donna Schwede
Relevant Publications & Presentations:
Golden, J.E., C.D. Knightes, E.J. Cooter and R. Dennis. 2009. Modeled watershed runoff associated with variations in precipitation data, with implications for contaminant fluxes: initial results. In Webb, R.M.T., Semmens, D.J., eds., Planning for an uncertain future - monitoring, integration, and adaptation. Proceedings of the Third Interagency Conference on Research in the Watersheds: U.S. Geological Survey Scientific Investigations Report 2009-5049, 292 pp. (abstract)

References:
Sullivan, T.J., B.J. Cosby, J.R. Webb, R.L. Dennis, A.J. Bulger, F.A. Deviney, Jr., 2008. "Streamwater acid-base chemistry and critical loads of atmospheric sulfur deposition in Shenandoah National Park, Virginia." Environ Monit Assess, 137: 85-99.