Area Designations for 2008 Ground-level Ozone Standards
You are here: EPA Home
Region 8 Recommendations and EPA Responses
2008 Ground-level Ozone Standards — Region 8 Recommendations and EPA Responses
On December 9, 2011, the U.S. Environmental Protection Agency, working closely with the states and tribes has taken the next step to implement the air quality standards for smog, also known as ground-level ozone, which were initially put in place in 2008 by the previous administration. In September, the Office of Management and Budget returned to EPA the draft final rule addressing the reconsideration of the 2008 ozone standards. In letters to state and tribal representatives, EPA has identified which areas it anticipates will be meeting the 2008 ozone standards and those that do not. States, tribes and the public will have an opportunity to comment on these proposed decisions before the agency issues final designations in spring 2012. These proposed decisions are based on air quality monitoring data, recommendations submitted by the states and tribes, and other technical information. EPA will work closely with states and tribes throughout this process using a routine and common sense approach that improves air quality, maximizes flexibilities and minimizes burden on state and local governments as they strive to meet these long standing standards.
Tribal information is available on the Tribal Recommendations page.
EPA Intended Designations (Not Final)
States' and EPA's recommendation and response documents are available below the map.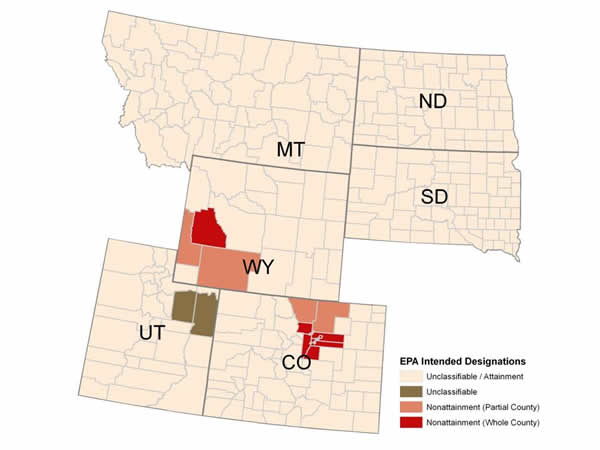 You will need Adobe Reader to view some of the files on this page. See EPA's PDF page to learn more.
The documents listed below are state responses to EPA's request for recommendations on the designation of areas for the 2008 ground-level ozone standards and EPA's responses to those submittals. These responses are provided here in PDF format for INFORMATIONAL PURPOSES ONLY and do not represent EPA's views on the appropriateness or adequacy of a state's or a tribe's recommendations.
Recommendations received by EPA Region 8
State
State
Recommendation
Updated State
Recommendation
EPA
Response
State Remarks
on EPA Response
Colorado
Letter (PDF)

(80 pp, 8.9 MB)

Letter (PDF)

(3 pp, 802 KB)


Attachment (PDF)

(19 pp, 17.2 MB)

Montana
Letter (PDF)

(5 pp, 1.1 MB)

Letter (PDF)

(2 pp, 665 KB)

North Dakota
Letter (PDF)

(1 p, 237 KB)

Letter (PDF)

(2 pp, 669 KB)

South Dakota
Letter (PDF)

(10 pp, 1.8 MB)

Letter (PDF)

(2 pp, 670 KB)

Utah
Letter (PDF)

(55 pp, 3.2 MB)

Letter (PDF)

(3 pp, 860 KB)

Wyoming
Letter (PDF)

(405 pp, 97 MB)

Letter (PDF)

(2 pp, 708 KB)


Attachment (PDF)

(24 pp, 3.0 MB)

Letter (PDF)

(20 pp, 5.4 MB)
Final Designations for Region 8
Region 8 tribal information