Area Designations for 2008 Ground-level Ozone Standards
You are here: EPA Home
Region 2 Final Designations, April 2012
2008 Ground-level Ozone Standards —
Region 2 Final Designations, April 2012
EPA is implementing the 2008 ozone standards as required by the Clean Air Act. Meeting these standards will provide important public and environmental health benefits. EPA has worked closely with states and tribes to identify areas in the country that meet the standards and those that need to take steps to reduce ozone pollution.
EPAs final designations are based on air quality monitoring data, recommendations submitted by the states and tribes, and other technical information. EPA will work closely with states and tribes to implement the standards using a common sense approach that improves air quality, maximizes flexibilities and minimizes burden on state and local governments.
Map of Final Designations - EPA Region 2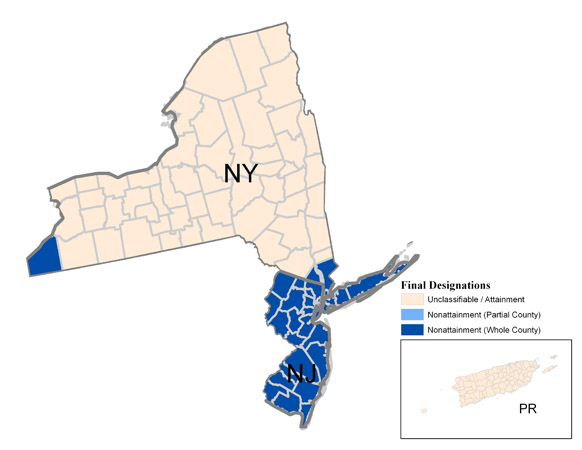 This table identifies area designations for EPAs region 2 states. In some cases EPA designated partial counties. These are identified by a (P). If a county is not listed below, EPA has designated it as unclassifiable/attainment.
EPA Areas for Designations for the 2008 Ozone Standards
State
Area Name
Counties
Area Classification
New Jersey
New York-N. New Jersey-Long Island, NY-NJ-CT
Bergen
Marginal
Essex
Hudson
Hunterdon
Middlesex
Monmouth
Morris
Passaic
Somerset
Sussex
Union
Warren
Philadelphia-Wilmington-Atlantic City, PA-NJ-MD-DE
Atlantic
Marginal
Burlington
Camden
Cape May
Cumberland
Gloucester
Mercer
Ocean
Salem
New York
Jamestown, NY
Chautauqua
Marginal
New York-N. New Jersey-Long Island, NY-NJ-CT
Bronx
Marginal
Kings
Nassau
New York
Queens
Richmond
Rockland
Suffolk
Westchester
Rest of state is unclassifiable/attainment
Puerto Rico
Entire territory is unclassifiable/attainment
Virgin Islands
Entire territory is unclassifiable/attainment
Tribal information is available on the Tribal Designations page.
Recommendations from Region 2 States and EPA Responses