BP Oil Spill (Deepwater Horizon)
Description of the Event and EPA's Response/Role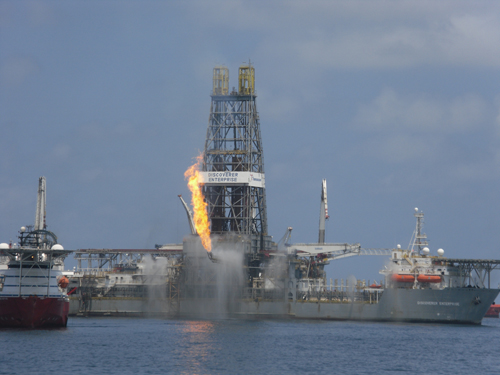 On April 20, 2010 Transocean Ltd's Deepwater Horizon oil rig (licensed to BP), operating 42 miles southeast of Venice, Louisiana in 5,000 feet of water, exploded and caught fire, killing 11 workers. Following the collapse and sinking of the rig, gas and oil escaped from the well at a rate estimated to be as much as 70,000 barrels (2.94 million gallons) per day until June 3, when the broken riser pipe attached to the well was removed and a collection system installed to capture some of the escaping oil and gas. In addition, over a million gallons of chemical dispersant was applied, with more than 350,000 gallons of dispersant added to the oil and gas flow at the wellhead. Oil and gas escaping the collection system rose from the wellhead with some oil reaching the surface. Some of the oil escaping the collection system dissolved in the water column and some forms small droplets. The natural gas escaping the collection system also partially dissolved in the water column. The ruptured well continued to spew oil and gas into the Gulf of Mexico until July 12, when a capping stack was installed on the Deep Water Horizon. In all, more than five million barrels of oil were released in the worst spill in United States history, washing ashore on beaches and marshlands from Texas to Florida.
As one of many agencies providing support to the U.S. Coast Guard-led federal response to the BP oil spill, EPA conducted a number of activities in response to the spill. EPA:
monitored air, water, and sediment, along the shoreline and beyond for chemicals related to oil and dispersants, as well as waste generated by the cleanup operations;
monitored the effects of dispersants in the subsurface environment.
supported and advised Coast Guard efforts to clean the reclaimed oil and waste from the shoreline.
AED provided support to EPA's response to the oil spill in a number of ways.
Assessment of Federal Response
At the request of Administrator Jackson received on 1 June 2010, a team of AED staff mobilized for an intense, high-level assessment of the scientific activities being undertaken by all Federal agencies in response to the BP spill. This assessment considered past, present and planned future activities undertaken by Federal agencies, with the intention of helping to evaluate the comprehensiveness and coordination of the overall response, and to identify apparent redundancies and gaps in response activities. The team organized their assessment around the components of spill response and the damage assessment process, as determined by the Oil Pollution Act and relevant regulations. Through a concerted effort of information gathering and evaluation, the team was able to deliver an appropriately comprehensive and informative assessment to the Administrator by the morning of 3 June 2010. The assessment also offered recommendations for addressing apparent gaps in scientific activities, and for enhancing coordination and communication amongst the Federal family.
Larval Fish Assay for Oil Contaminants
AED scientists Diane Nacci, Denise Champlin, Dina Proestou, and Mark Cantwell evaluated modifications of an embryonic and larval fish bioassay that specifically detects bioavailable pollutants acting through the aryl hydrocarbon receptor (AHR), including oil. The bioassay uses common Atlantic or Gulf Coastal killifish and takes from 3 – 10 days. Standard and rapid methods were compared for their sensitivity to oil spill-related environmental samples, oil with and without an oil dispersant, and the dispersant alone. As predicted, AHR-specific sublethal effects were evident at concentrations 10 – 100 fold lower than concentrations producing adverse health effects for oil-containing material, but not for dispersant, alone. The results suggested the usefulness of fish bioassays to quickly and sensitively detect contamination, rank toxic potency, reveal mechanisms of toxicity for compounds and environmental mixtures, and inform species-specific population models used to project ecological RISKS of oil spills. For more information, contact Diane Nacci (nacci.diane@epa.gov, 401-782-3143).
Oil Spill Response Vessel Support
In mid-May 2010, EPA's Office of Research and Development (ORD) received a request for scientists to assist with shipboard sampling in response to the Gulf of Mexico Oil Spill. On June 10-14, 2010, the R/V Brooks McCall, a 162' long research vessel with a crew of 12 directed by James Howell, sailed from Port Fourchon, LA. The scientific crew of 13 included EPA employees Warren Boothman (AED) and Anne Cotter (MED). The vessel and crew pursued a mission to: track the depth and extent of the underwater oil plume via fluorometry, dissolved oxygen (DO) profiles, and CTD data; conduct particle size analysis; conduct rapid toxicity testing; and collect water samples for chemical and toxicological testing on-shore. Dr. Boothman provided oversight of the quality assurance and sampling plans being applied, consulted with shipboard staff about sampling and communicated with EPA on-shore. In addition, both Dr. Boothman and Ms. Cotter assisted with sample collection, preservation and on-board analyses.